News
Cruz Shares the 'Real Reason' Schumer Is Trying to Change the Filibuster — It Involves AOC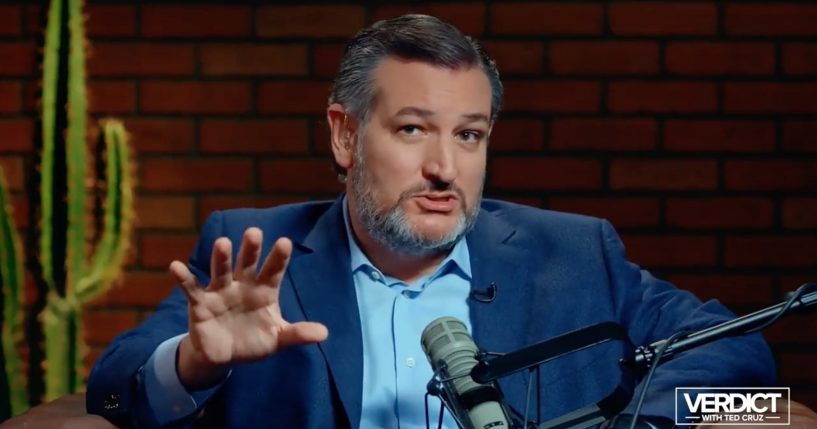 Sen. Ted Cruz (R-Texas) is suggesting that Senate Majority Leader Chuck Schumer (D-N.Y.) is trying to change the filibuster to placate progressives and fend off a potential primary challenge from Rep. Alexandria Ocasio-Cortez (D-N.Y.)
During a recent episode of the "Verdict With Ted Cruz" podcast, Cruz noted that in a 2005 speech, Schumer warned getting rid of the filibuster would be a "doomsday for democracy" and turn the U.S. into a "banana republic."
"Now he's trying 'banana republic' and 'doomsday for democracy,' to use the Schumer words, why? Well, frankly, the real reason, Schumer's terrified AOC is going to primary him from the left," Cruz said.
Advertisement - story continues below
He added, "And so he wants to give the crazy left everything he can in order to show just how tough he is."
Watch the video below:
What happens if Democrats eliminate the filibuster?

I discuss on the latest episode of #Verdict with @michaeljknowles and @Liz_Wheeler out now on YouTube.https://t.co/OCdMu4COBu pic.twitter.com/5QLJg9MVCr

— Ted Cruz (@tedcruz) January 16, 2022
Earlier this month, Schumer Democrats will "consider" changes to the filibuster if Republicans block their efforts to pass voting rights legislation, as IJR reported.
Advertisement - story continues below
In a "Dear Colleague" letter, Schumer decried what he called "attacks on our democracy" as he pointed to a series of laws Republican-controlled state legislatures have passed that limit mail-in voting.
Schumer went on to say that the Senate was "designed to protect the political rights of the minority in the chamber." However, he claimed, "Over the years, those rights have been warped and contorted to obstruct and embarrass the will of majority – something our Founders explicitly opposed."
Do you think AOC will run for Senate?
"We must ask ourselves: if the right to vote is the cornerstone of our democracy, then how can we in good conscience allow for a situation in which the Republican Party can debate and pass voter suppression laws at the State level with only a simple majority vote, but not allow the United States Senate to do the same?" he insisted.
Finally, Schumer wrote, "The fight for the ballot is as old as the Republic. Over the coming weeks, the Senate will once again consider how to perfect this union and confront the historic challenges facing our democracy."
"We hope our Republican colleagues change course and work with us. But if they do not, the Senate will debate and consider changes to Senate rules," he added.
Advertisement - story continues below
During an August interview with CNN, Ocasio-Cortez did not rule out launching a primary challenge against Schumer in the upcoming 2022 election.
Truth and Accuracy
We are committed to truth and accuracy in all of our journalism. Read our editorial standards.
Comment Down Below
Conversation