Cruz Reveals Why He Believes Some Democrats Are No Longer Attending Barrett Hearings in Person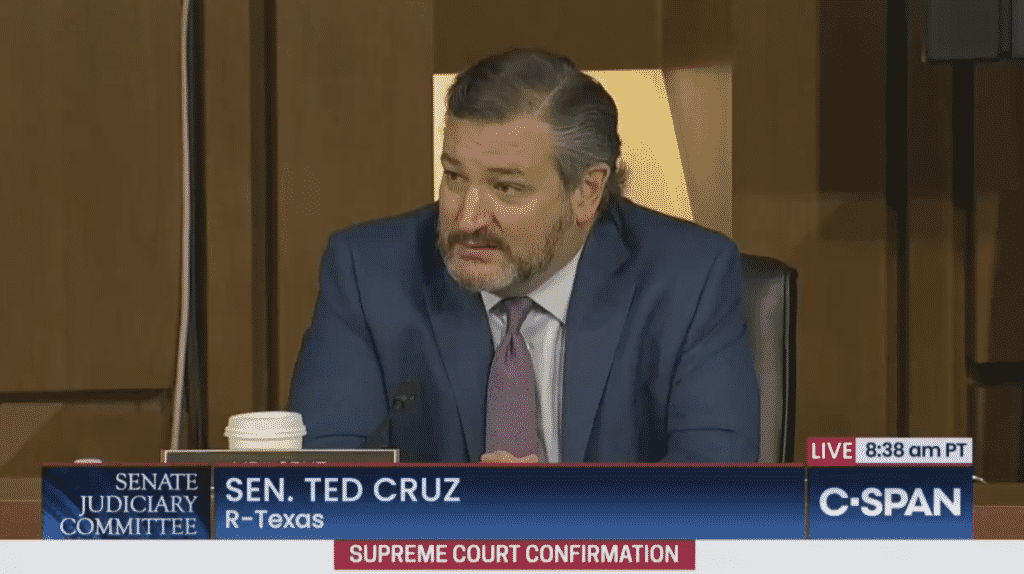 Sen. Ted Cruz (R-Texas) is speculating about why some Democratic senators are no longer willing to attend confirmation hearings for Judge Amy Coney Barrett in person.
"In this committee room, there are only two Democratic senators in the room. If you look at the dais, there's chair after chair after chair that is empty. The Democratic senators are no longer even attending," Cruz said during the third day of Barrett's hearings.
He added, "I assume they'll show up for their time, but it is indicative of what they are tacitly admitting, which is that they don't have substantive criticism."
Senate Minority Whip Dick Durbin (D-Ill.) interrupted Cruz.
"Mr. Chairman, may I make a point of personal privilege? We're in the midst of a Covid-19 crisis, a pandemic, and some members are in their offices following this on television," Durbin said.
He continued, "To suggest their absence here means they aren't following or participating is incorrect."
Watch the exchange below:
. @tedcruz: "Dem Senators are no longer attending… it is indicative of what they are admitting, which is that they don't have substantive criticisms."

Durbin: "Some Senators are in their offices because of the pandemic."

Cruz: "All but two of them were here yesterday."

🔥🔥 pic.twitter.com/kPTidv7Pik

— Caleb Hull (@CalebJHull) October 14, 2020
Cruz doubled down on his belief.
"I would note the senator from Illinois in his personal privilege somehow omitted the fact that all but two of the Democrats were physically here yesterday and after the questioning they made the decision not to be here," Cruz argued.
He told Durbin, "That's fine, you are welcome to make that decision."
Sen. Kamala Harris (D-Calif.) criticized Republicans for moving forward with the confirmation process amid the coronavirus pandemic, as IJR previously reported.
"This hearing has brought together more than 50 people to sit inside of a closed-door room for hours while our nation is facing a deadly airborne virus," Harris said on Monday. "This committee has ignored common-sense requests to keep people safe, including not requiring testing for all members, despite a coronavirus outbreak among senator of this very committee."
Harris delivered her opening remarks virtually.
Sen. Mike Lee (R-Utah) made an in-person appearance during the hearings just 10 days after testing positive for COVID-19, as IJR previously reported.