News
Cruz Takes Swipe at Liz Cheney Over Trump Criticism – She Fires Back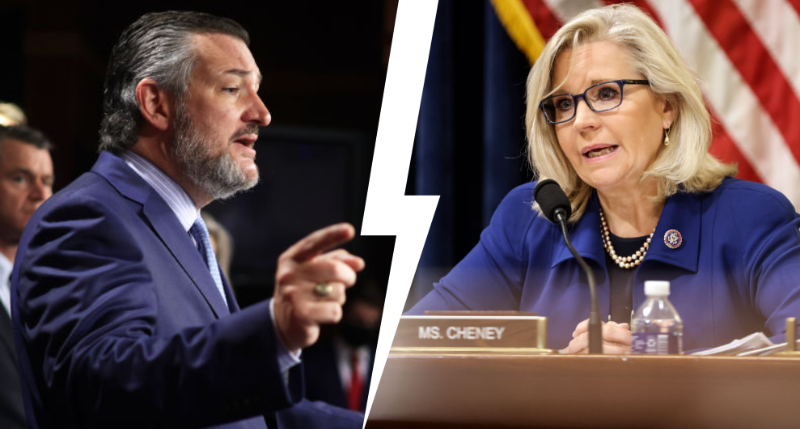 Sen. Ted Cruz (R-Texas) and Rep. Liz Cheney (R-Wyo.) traded barbs over their stance on former President Donald Trump.
During an appearance on Fox News' "Hannity" Tuesday, Cruz said, "I look at the situation of Liz Cheney, and I just think it's sad."
"I've always liked her, I haven't agreed with her on everything, I think she's a bit too eager to send in the Marines and to invade countries all over the planet, but I've always liked her, and I think she falls into the category of people who Donald Trump just broke, just shattered," he continued.
Advertisement - story continues below
Finally, the Texas senator said, "She hates Donald Trump so much that it just has overridden everything in her system."
"She's lashing out at Trump and Republicans and everything, and she's become a Democrat, and it's sad to watch what has happened. It is Trump Derangement Syndrome," he added.
On Wednesday, Cheney fired back.
Speaking to reporters, she said, "I think that uh Trump broke Ted Cruz. Ted used to say that he was a constitutional conservative. But now he is like, so desperate for political approval, that he will even advocate, suggest secession."
Advertisement - story continues below
"And I think that a real man would be defending his wife and his father and the Constitution," she added.
Listen to the audio below:
Cheney earlier: I think that Trump broke Ted Cruz.. I think that a real man would be defending his wife, his father, and the constitution pic.twitter.com/EqN9mIDu2L

— Acyn (@Acyn) November 18, 2021
The Wyoming Republican Party voted this week to no longer consider Cheney a Republican, as IJR reported.
Earlier this year, she voted to impeach Trump on the charge of incitement of insurrection. And she accepted an appointment from House Speaker Nancy Pelosi (D-Calif.) to the select committee investigating the Jan. 6 riot at the U.S. Capitol.
Advertisement - story continues below
During the 2016 Republican presidential primary, Trump claimed that Cruz's father was involved in the assassination of John. F. Kennedy — a charge the Texas senator's campaign dismissed as "garbage."
Trump also insulted the Texas senator's wife.
Cruz responded by calling Trump a "sniveling coward" and telling him to "leave Heidi the hell alone."
Truth and Accuracy
We are committed to truth and accuracy in all of our journalism. Read our editorial standards.
Conversation