News
Cuomo Unloads on Longtime 'Friend' Biden for Not Supporting Him Amid Sexual Harassment Allegations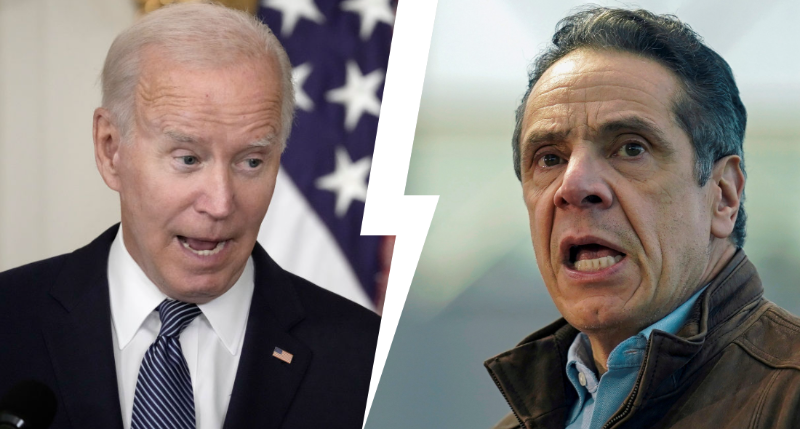 Former New York Gov. Andrew Cuomo (D) is speaking out about Democratic politicians who declined to defend him amid sexual harassment allegations.
During an interview with the New York Post's Cindy Adams, Cuomo was asked which of his friends stood up for him as he was under fire.
"Nobody. It was tough. Traumatizing," the former governor said.
Advertisement - story continues below
He proceeded to name some prominent Democrats who he felt turned on him, including President Joe Biden.
"Biden, a friend 20 years, not knowing details, immediately said about me, 'He's got to go.' Biden had troubles years before and I stood by him. Gave him the benefit of the doubt. It was heartbreaking to see him trash me without reading one page, making one phone call."
After New York Attorney General Letitia James released a report that accused the then-governor of sexually harassing several women, Biden told reporters, "I think he should resign."
.@kaitlancollins: "Are you now calling on [Gov. Andrew Cuomo] to resign?"

President @JoeBiden: "Yes." pic.twitter.com/vYUaFhQBk9

— Mediaite (@Mediaite) August 3, 2021
Advertisement - story continues below
The president was not the only one Cuomo took issue with.
"[House Speaker Nancy Pelosi (D-Calif.)]? Please. I know her [for] 30 years. Her daughter worked for me. [Former President Barack Obama]? He's been tough. When troubles come you like to think you're different. You're not. Enemies and haters accumulate," Cuomo went on.
Do you think Biden should have called for his resignation?
He added, "Schumer, Gillibrand, pals working in the state, friends I respected, fell like dominos. Lose your power and heartless politicians read the tea leaves. You're dead. Over. Pols grab another piece of meat. The phrase 'political friends' is an oxymoron."
When asked if his personality contributed to Democrats not supporting him, Cuomo said, "OK, I'm not warm and fuzzy. What politician is? Maybe my duality started when my father was no longer governor. I saw him hurt. His vulnerabilities exposed. They broke his heart. The press next crucified me, his campaign manager kid."
"So I learned then not to expose a weakness or show your inner self. You know why? It gets used against you. A reaction becomes 'Now we know where to hurt you,'" he added.
Advertisement - story continues below
Finally, Cuomo did not rule out a future potential bid for governor as he said, "I'm a lawyer who can rep clients in corporations, finance, government relations, real estate people. I can earn money. And I'll express my opinion in the next few weeks. But right now nice well-meaning, hardworking Hochul's your best alternative."
"Look, my interest is public service. There are no term limits so I can make another go in four years. I'm someone who delivers. And who knows, could be there's nobody to beat me. Also who knows — maybe by then I'll be sweeter," he added.
Cuomo resigned last August amid allegations he sexually harassed several women.
He has denied acting inappropriately.
Truth and Accuracy
We are committed to truth and accuracy in all of our journalism. Read our editorial standards.
Comment Down Below
Conversation