News
Dan Bongino Permanently Banned From YouTube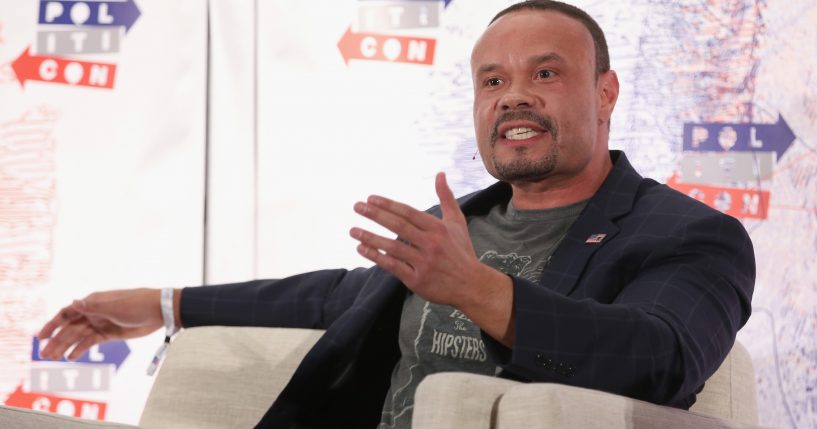 Conservative commentator Dan Bongino has been permanently banned from YouTube.
According to The Washington Post, Youtube banned Bongino for repeatedly violating its rules on posts related to COVID-19 misinformation.
The outlet noted Bongino received a strike and week-long suspension from the platform earlier this month for comments about masks.
Advertisement - story continues below
YouTube said in a statement, "We terminated Dan Bongino's channels for circumventing our terms of service by posting a video while there was an active strike and suspension associated with the account."
As The New York Times notes, the platform made it clear that Bongino is not allowed to use, own, or create other YouTube channels.
The newspaper also mentioned a video Bongino posted showing an email he said was sent to an official at YouTube. According to the email, Bongino wrote that it was only a "matter of time" until the company would try to "silence" him.
He added, "I anxiously waited for this moment."
Advertisement - story continues below
Bongino proceeded to dare YouTube to "do something about it."
In response to the ban, a Twitter account related to one of his shows wrote, "Good riddance to YouTube."
Good riddance to YouTube 👇https://t.co/r3rPoFZru2

— Bongino Report (@BonginoReport) January 26, 2022
Bongino is not the only conservative to be permanently suspended from a major media platform.
Earlier this month, Rep. Majorie Taylor Greene's (R-Ga.) Twitter account was permanently suspended for "repeated violations" of the company's COVID-19 misinformation policy, as IJR reported.
Advertisement - story continues below
"We've been clear that, per our strike system for this policy, we will permanently suspend accounts for repeated violations of the policy," said a Twitter spokesperson.
Greene responded to the suspension in a statement to Telegram.
"That's fine, I'll show America we don't need them and it's time to defeat our enemies," Greene said.
She added, "I stand with the truth and the people. We will overcome!"
Advertisement - story continues below
In February 2021, Twitter said former President Donald Trump would not be allowed back on the platform even if he ran again and won, as IJR previously reported.
Truth and Accuracy
We are committed to truth and accuracy in all of our journalism. Read our editorial standards.
Comment Down Below
Conversation