De Blasio: It Is 'Just a Matter of Time' Until the Gyms and Indoor Dining Are Shutdown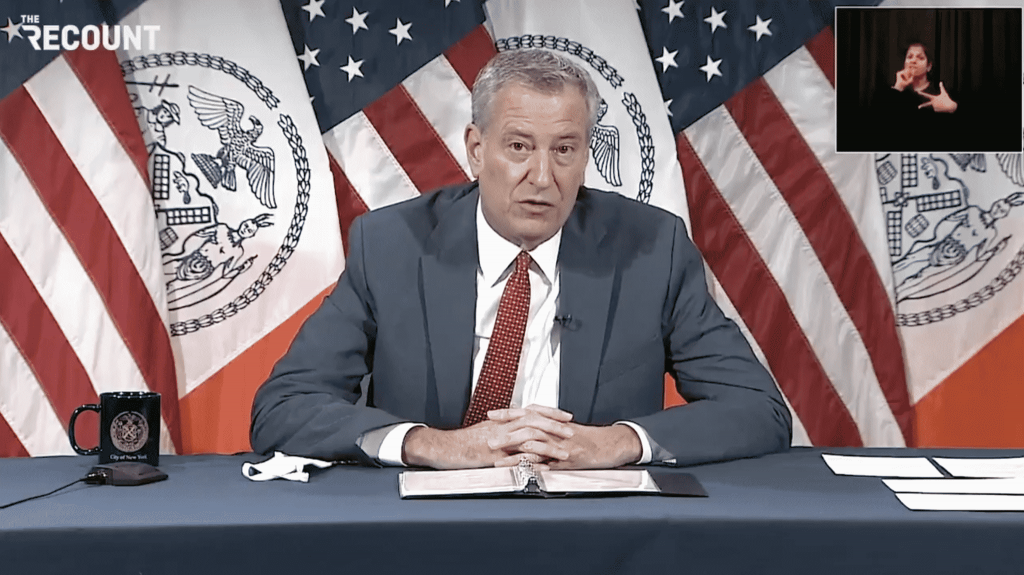 State and local leaders around the country are implementing new restrictions on public life in a bid to curb the spread of the virus as the number of new cases reported per day continues to top 100,000.
On Wednesday, New York City officials announced that the city's public school system would close after the test positivity rate rose to 3%.
And on Thursday, New York City Mayor Bill de Blasio (D) said that there would likely be even more restrictions on public life.
In a press conference, he said, "For everyone who honestly might feel somehow a little better if knew that indoor dining was going to close, or gyms were going to close, I'm sorry to tell you that for the sake of those business owners and everyone who loves those gyms and loves indoor dining it's just a matter of time."
"It's very likely to be in the next week or two," he added.
Watch the video below:
NYC Mayor Bill de Blasio says of indoor dining and gyms shutting down: "It's just a matter of time. It's very likely to be in the next week or two." pic.twitter.com/8vua9E2Nyd

— The Recount (@therecount) November 19, 2020
On Wednesday, Gov. Andrew Cuomo (D) was asked by a reporter why the state had not yet restricted indoor dining to help tamp down the spread of the virus in the state, and whether the state should reconsider its metrics for imposing new restrictions.
He noted that the test positivity rate for the coronavirus had not reached the limit set forth under his guidelines for closing indoor dining.
"We close at the lowest percentage in the nation, our calibration is the lowest," Cuomo said.
New York was the epicenter of the outbreak in the spring but managed to curb the spread of the virus and prevent massive outbreaks over the summer.
However, as the cold weather set in, cases have begun to rise again.
On Wednesday, the U.S. recorded 172,391 new coronavirus cases, and there has been an average of 162,816 cases per day over the past week.
New York is far from alone in implementing new restrictions to help prevent the spread of the virus.
Washington Gov. Jay Inslee (D) imposed a one-month ban on indoor dining and gyms, and Michigan Gov. Gretchen Whitmer (D) implemented a three-week ban on indoor dining and gyms.