News
'We Won't Use Real Guns at All': Dwayne Johnson Reacts to Fatal Shooting on Alec Baldwin Set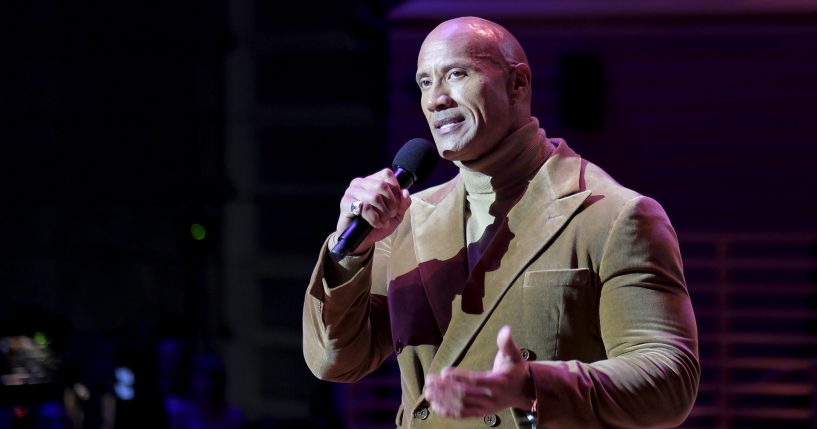 Actor Dwayne Johnson is speaking out about the recent fatal shooting on the set of a movie starring Alec Baldwin.
During an interview with Variety Wednesday night, Johnson pledged to stop using real firearms on the sets of his productions after Director of photography Halyna Hutchins was killed on the set of the movie "Rust."
Director of "Rust," Joel Souza, was also injured during the incident.
Advertisement - story continues below
"First of all, I was heartbroken," Johnson began, adding, "We lost a life. My heart goes out to her family and everybody on set. I've known Alec, too, for a very long time."
The outlet noted Johnson is required to handle firearms in his movie, "Red Notice," and promised to use only rubber guns on sets.
"I can't speak for anyone else, but I can tell you, without an absence of clarity here, that any movie that we have moving forward with Seven Bucks Productions — any movie, any television show, or anything we do or produce — we won't use real guns at all," Johnson said.
He continued, "We're going to switch over to rubber guns, and we're going to take care of it in post."
Advertisement - story continues below
Johnson explained they are "not going to worry about the dollars; we won't worry about what it costs."
He acknowledged while there are safety protocols and other measures taken in the movie business, "accidents do happen."
Should real firearms be banned from movie sets?
The actor argued when "something like this happens of this magnitude," the "most prudent thing and the smartest thing to do is just pause for a second and really re-examine how you're going to move forward and how we're going to work together."
A petition to ban the use of real firearms on sets has received significant support.
"We need to make sure that this avoidable tragedy never happens again.  There is no excuse for something like this to happen in the 21st century.  Real guns are no longer needed on film production sets. This isn't the early 90's, when Brandon Lee was killed in the same manner.  Change needs to happen before additional talented lives are lost," the Change.org petition states.
Advertisement - story continues below
It continues, "Please sign this petition and demand for Alec Baldwin to use his power and influence in the Hollywood film industry to make change and ban real guns on film sets."
As of Thursday, the petition has received more than 106,000 signatures.
Truth and Accuracy
We are committed to truth and accuracy in all of our journalism. Read our editorial standards.
Comment Down Below
Conversation