News
Electric Vehicle Owner Reveals the High Cost of Replacing a Tail Light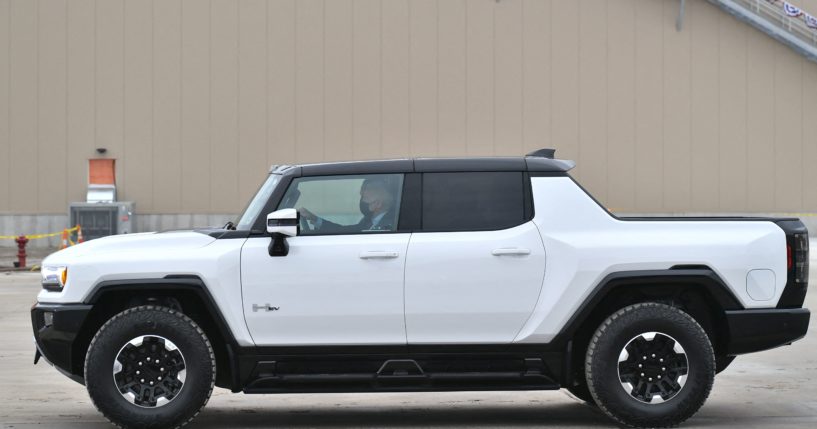 The owner of a Hummer electric vehicle revealed how much it cost to replace a tail light.
According to The Washington Examiner, the owner wrote in a private Facebook group, "Had a shocker today."
The owner continued, "A new passenger side rear light for the Hummer EV; $4,040 just to buy it."
Advertisement - story continues below
According to the website The Drive, General Motor's list price for one tail light comes to a total of $3,045.
The outlet noted a full set will come close to $6,100, amounting to more than 5% of the Hummer EV's MSRP prior to installation.
On Tuesday, Insider reported some Hummer electric vehicles have been resold for close to three times their list price amid a high demand and low supply.
Fox News noted GMC has only delivered 783 of the 1,000 vehicles so far.
Advertisement - story continues below
On October 22, at the Barrett-Jackson event in Houston, one of the vehicles was sold for $225,000.
Its original base price was $112,595.
Would you pay that much to replace a tail light?
GM is reportedly putting production on hold at the factory in Michigan that builds the vehicle for a few weeks beginning in November to retool it for increased output, as Fox News reported.
In November 2021, President Joe Biden visited a General Motors plant that was producing the truck.
Biden took a tour of the factory and drove around in the truck with GM CEO Mary Barra outside the plant.
Advertisement - story continues below
In case you missed it:
President Biden drives electric Hummer @GM: "Anybody want to jump in the back? On the roof? This sucker's something else." pic.twitter.com/3WbEwArRJW

— CSPAN (@cspan) November 17, 2021
Biden went on to tout his infrastructure law and share his experience driving the vehicle.
"I thought I — but I never could have imagined vehicles like the ones that I just took for a spin: the first-ever all-electric Hummer, which I first got to check out back in August when GM brought one of the White House — one to the White House lawn — in the South Lawn, along with the electric Ford 150, and the electric Jeep [Wrangler]," Biden said while delivering remarks.
Advertisement - story continues below
The president at the time argued, with his infrastructure law and Build Back Better plan, the United States would "kickstart new batteries, materials, and parts production and recycling; boosting the manufacturing of clean vehicles with new loans and new tax credits; creating new purchase incentives for consumers to buy American-made, union-made clean vehicles, like the electric Hummer — (applause) — folks — or the Silverado or any other of the 20 or more vehicles that GM is going to come out with in the near term that are electric; and spurring demand by covering federal government's enormous fleet of vehicles, as I'm going to do."
He continued, "I pledged when I ran — we have hundreds — we have thousands and thousands of vehicles in the federal fleet. They're going to all go electric — all of them — down the road, supporting electric transit systems, electric school buses."
Truth and Accuracy
We are committed to truth and accuracy in all of our journalism. Read our editorial standards.
Comment Down Below
Conversation