News
Elise Stefanik Calls Liz Cheney a 'Pelosi Pawn'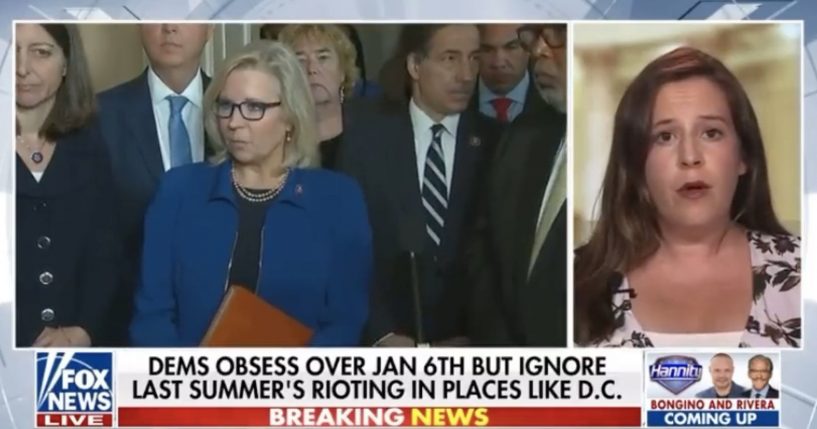 Rep. Elise Stefanik (R-N.Y.) is hitting back at Rep. Liz Cheney (R-Wyo.) after she criticized the third-ranking House Republican for saying House Speaker Nancy Pelosi (D-Calif.) is to blame for the January 6 riot at the U.S. Capitol.
Stefanik said on Tuesday, "The American people deserve to know the truth — that Nancy Pelosi bears responsibility as Speaker of the House for the tragedy that occurred on January 6."
Cheney was asked about Stefanik's remarks on CNN. She explained, "If I were saying the things that you just played, I'd be deeply ashamed of myself. What happened is absolutely clear. We had, as we heard this morning, just intolerable cruelty. A mob that was assembled by President Trump, was provoked by him."
Advertisement - story continues below
She added, "He lit the flame for what happened. We've seen that not just in the speech on the ellipse but throughout. What this committee needs to understand is exactly what the details were of the planning and the financing. But for anybody to be suggesting that somehow he wasn't responsible, I think it's shameful."
Check out her comments below:
GOP Rep. Liz Cheney says Rep. Elise Stefanik should be ashamed for blaming House Speaker Nancy Pelosi for the Jan. 6 insurrection.

Cheney says the mob was "provoked" by Pres. Trump. "For anybody to be suggesting that somehow he wasn't responsible, I just think it's shameful." pic.twitter.com/B04EqBMD3E

— The Lead CNN (@TheLeadCNN) July 27, 2021
 The chair of the House Republican Conference pushed back against Cheney's claims during an appearance on Fox News.
Advertisement - story continues below
"And when it comes to Liz Cheney, she is a Pelosi Republican, a Pelosi pawn at this point. She does not represent the Republican conference, or Republican voters, or the American people," Stefanik said.
Watch the video below:
Stefanik calls Cheney a "Pelosi pawn" pic.twitter.com/Zse7RTxw5C

— Acyn (@Acyn) July 28, 2021
She continued, "Republicans are focused on the facts. We are not focused on protecting the speaker of the House, who is a lame-duck speaker. We want truth, accountability and we want to make sure that the U.S. Capitol is secure as the people's house and that the violence on January 6 never happens again."
House Minority Leader Kevin McCarthy (R-Calif.) made similar comments about Cheney and Rep. Adam Kinzinger (R-Ill.) after accepting appointments to the select committee investigating the riot, as IJR reported.
Advertisement - story continues below
"Aren't they kinda like Pelosi Republicans?" McCarthy said.
Truth and Accuracy
We are committed to truth and accuracy in all of our journalism. Read our editorial standards.
Conversation