News
Elise Stefanik Accuses the Postal Service of Stealing Donor Checks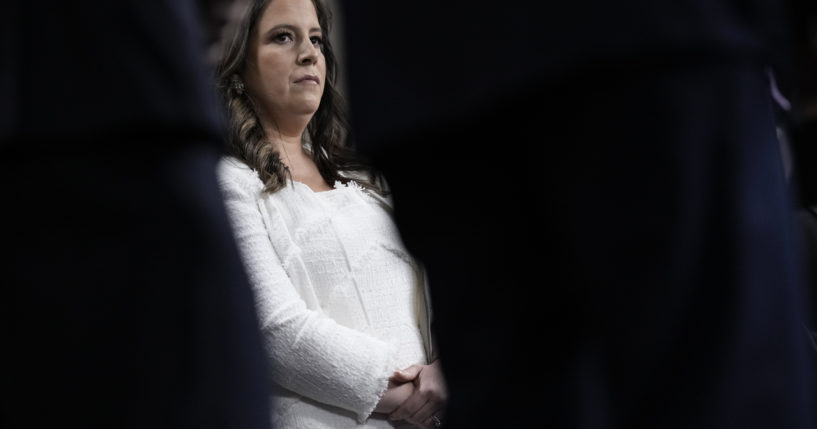 Rep. Elise Stefanik (R-N.Y.) claims employees of the U.S. Postal Service have stolen her campaign checks.
Stefanik made the accusation in a letter to Postmaster General Louis DeJoy on Thursday.
"We are writing you on behalf of our clients, Congresswoman Elise Stefanik and her campaign committee, Elise for Congress, concerning the repeated, targeted theft of campaign contributions from packages sent through the United States Postal Service('USPS')," Stefanik's lawyer, Michael Toner, wrote.
Advertisement - story continues below
The letter continues, "On four separate occasions between June 2022 and November 2022, packages sent by Elise for Congress containing campaign contributions were ripped open and the contents stolen while in the custody of USPS or its contractors. Three of these incidents occurred in a single week."
According to Stefanik's lawyer, "The evidence indicates that Elise for Congress's packages were plundered by a USPS employee or contractor while the packages were in transit."
The letter claims the "repeated security failures by USPS have not only resulted in the loss of nearly $20,000 in campaign contributions, but also—and more alarmingly—have exposed hundreds of Congresswoman Stefanik's campaign supporters to potential identity theft or financial fraud."
Toner acknowledged the agency is investigating the matter.
Advertisement - story continues below
However, the letter states, "It is unacceptable that USPS has repeatedly allowed these targeted thefts to occur and cannot identify who committed the thefts, let alone where or how the thefts occurred."
Toner goes on to list a series of demands including: a "list of all concrete actions taken by USPS to investigate these thefts; (2) the particular steps that USPS will take to ensure that Elise for Congress will not be the victim of mail theft in the future; and (3) a list of the actions that USPS will take to more effectively prevent, detect, and prosecute mail theft both in New York's 21st Congressional District and nationwide."
Additionally, he points out that Stefanik and her campaign are not the only ones to be "victimized by mail theft."
Concluding the letter, Toner wrote, "Mail theft can devastate small business owners and those on fixed incomes, including the elderly. By failing to prevent or deter mail theft, USPS is exposing hardworking, innocent Americans to predatory criminals just as rising inflation and a cooling economy have left them at their most financially vulnerable."
He added, "We hope that you and USPS are taking these systemic issues as seriously as they deserve to be taken. Our clients look forward to receiving the information from USPS specified above and continuing to work with both you and the relevant investigative authorities to ensure the scourge of mail theft is adequately addressed."
Truth and Accuracy
We are committed to truth and accuracy in all of our journalism. Read our editorial standards.
Comment Down Below
Conversation