News
Former FBI Official Andrew McCabe Wins Back Full Pension in Settlement With DOJ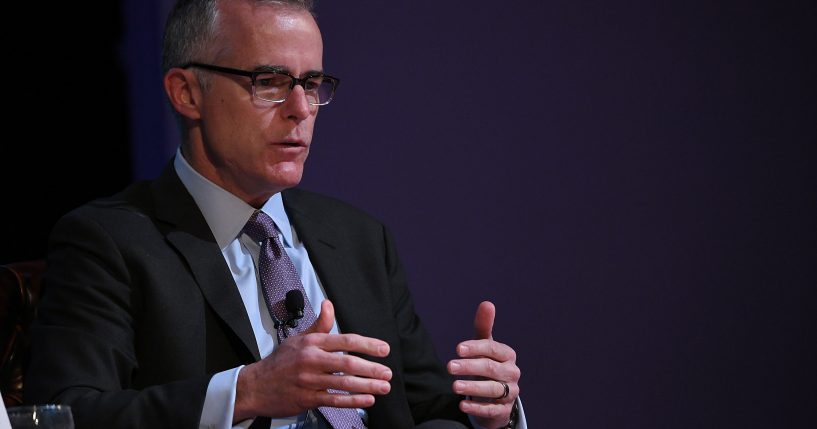 Former Deputy FBI Director Andrew McCabe struck an agreement with the Department of Justice to win back his full pension.
The settlement was reached as part of a 2019 wrongful termination lawsuit filed after McCabe was fired while working under the Trump administration.
According to the settlement, the agreement is "neither an admission of liability by Defendants nor a concession by Plaintiff that his claims are not well-founded."
Advertisement - story continues below
The agreement determined that the "parties wish to resolve this dispute amicably, without the costs and burdens that would result from further litigation."
The document notes the FBI's records will show McCabe was "employed continuously" by the agency from July 1996 until he retired in March of 2018.
McCabe will receive "a payment of a lump sum representing all retirement annuity payments, including annuity supplement payments, that he would otherwise have received from the April 1, 2018 annuity commencement date until the day before he is paid his first regular monthly payment."
The Department of Justice has agreed to pay McCabe more than $539,000 "pursuant to the Equal Access to Justice Act, and in full settlement and satisfaction of all attorney's fees, costs, and expenses."
Advertisement - story continues below
The settlement notes it "is not and shall not be construed as an admission by any defendant of the truth of any allegation or the validity of any claim asserted in this lawsuit, or of any Defendant's liability therein."
The former deputy FBI director said in a statement, "Politics should never play a role in the fair administration of justice and civil service personnel decisions."
McCabe went on to say his hope is that "this result encourages the men and women of the FBI to continue to protect the American people by standing up for the truth and doing their jobs without fear of political retaliation."
Attorney General Jeff Sessions fired McCabe in March of 2018. His termination came less than two days before his retirement and eligibility for pension benefits.
In his 2019 lawsuit, McCabe argued Trump demanded "personal allegiance" from him and "sought retaliation" when he would not give it to him.
Truth and Accuracy
We are committed to truth and accuracy in all of our journalism. Read our editorial standards.
Comment Down Below
Conversation