News
Former National Security Official Says Putin 'Got Frustrated Many Times' With Trump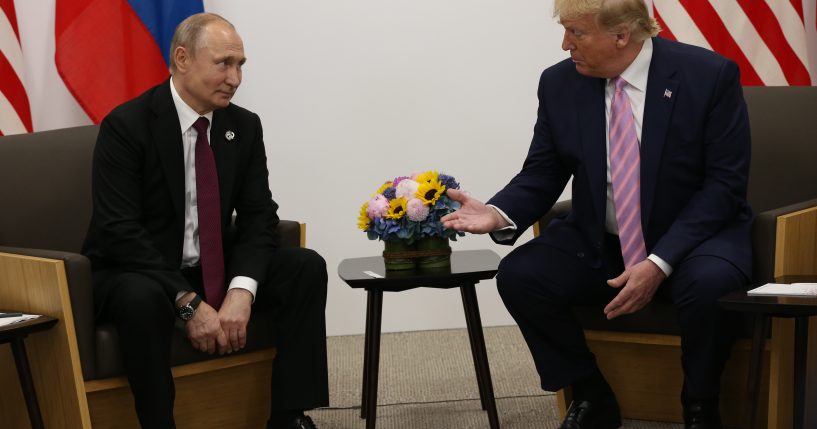 Former White House national security official Fiona Hill claimed Russian President Vladimir Putin frequently grew frustrated with Former President Donald Trump.
"You could see that he got frustrated many times with President Trump because he had to kind of keep explaining things and Putin doesn't like to do that even though he loves to be able to spin his own version of events," Hill said during a Chicago Council on Global Affairs event.
She added, "He wants to have predictability in the person that he's engaging with."
Advertisement - story continues below
Hill suggested Putin was "still maybe out there, you know, waiting for us to sue for peace, negotiate away Ukraine."
Additionally, Hill argued Putin chose to invade Ukraine during President Joe Biden's time at the White House.
"He thought that somebody like Biden, who's a transatlanticist, who knows all about NATO, who actually knows where Ukraine is, and actually knows something about the history, and is very steeped in international affairs, would be the right person to engage with as opposed to somebody that you have to explain everything to all the time, honestly," Hill said.
Watch Hill's comments below:
Advertisement - story continues below
During an April appearance on Fox News, Trump bragged about his relationship with Putin.
"I knew Putin very well. Almost as well as I know you, Sean," Trump said to host Sean Hannity.
He explained, "And I will tell you, we talked about it, we talked about it a lot, he did want Ukraine. But I said, 'You're not going into Ukraine.' He would never, ever have gone into Ukraine."
Hannity then asked Trump whether or not he thought Putin was "evil."
Advertisement - story continues below
Trump replied, "I think in 100 years people are gonna look back and they're gonna say, 'How did we stand back and NATO stand back,' which in many ways I've called the paper tiger."
He later added, "Don't forget, I rebuilt NATO."
Truth and Accuracy
We are committed to truth and accuracy in all of our journalism. Read our editorial standards.
Comment Down Below
Conversation