'One Lie After Another': Former Pence Aide Pushes for Probe Into Trump's COVID-19 Response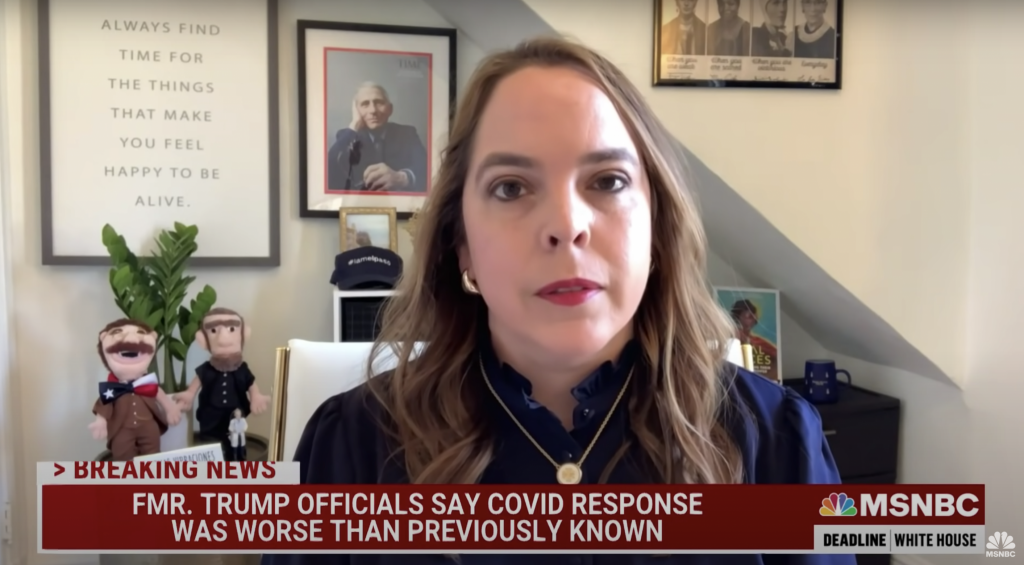 The former homeland security and coronavirus adviser to Vice President Mike Pence, Olivia Troye, is advocating for a full investigation into former President Donald Trump's COVID-19 response.
MSNBC's Nicolle Wallace played a clip of former U.S. Centers for Disease Control and Prevention (CDC) Director Robert Redfield revealing he was told to change the MMWR, also known as the Morbidity and Mortality Weekly Report.
She asked Troye, "Is an investigation necessary into all the lies that all of you were forced to tell?"
Troye replied, "Yes. There should be a full investigation because it was lies. It was one lie after another and Dr. Redfield is telling the truth. He was asked to change those reports."
She continued, "I was there for some of those conversations. I was on the phone on the coordination calls where there was push back inside of the White House on them."
Watch Troye's interview below:
Troye argued, "People should not be able to get away with the number of deaths and suffering that happened in this country under the previous administration. There are a lot of people who enabled this moment that are complicit."
Former White House COVID-19 response coordinator Dr. Deborah Birx told CNN the death toll would have been lower if the Trump administration acted earlier.
"There were about 100,000 deaths that came from that original surge," Birx said. "All of the rest of them, in my mind, could have been mitigated or decreased substantially."
Dr. Anthony Fauci shared with CNN he was shocked by Trump's call for the nation to reopen early during the pandemic, as IJR reported.
"The thing that hit me like a punch to the chest was then all of a sudden he got up and says, 'liberate Virginia,' 'liberate Michigan,' and I said to myself, 'Oh my goodness, what is going on here?' It shocked me because it was such a jolt to what we were trying to do," Fauci said.
According to The New York Times, more than 549,000 Americans have lost their lives due to the virus.