News
Gayle King Reacts to 'Very Messy and Very Sloppy' Amy Robach and T.J. Holmes Situation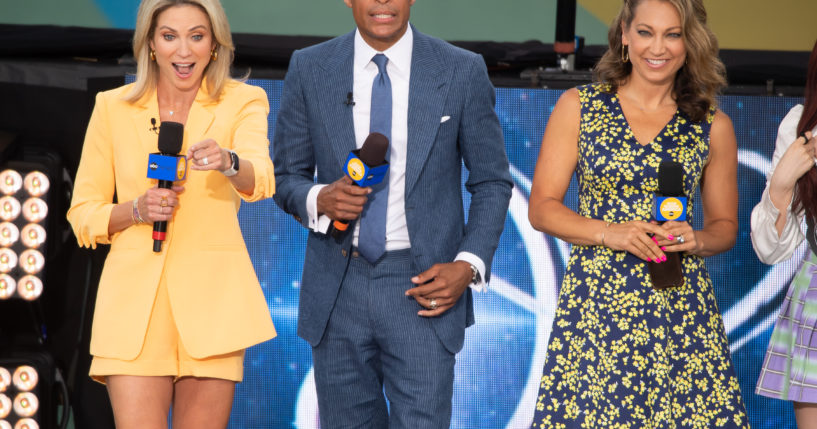 "CBS Mornings" co-host Gayle King shared her thoughts on "Good Morning America" co-hosts Amy Robach and T.J. Holmes' romance scandal.
King appeared on "Watch What Happens Live With Andy Cohen" and spoke about the situation.
"I mean, I look at the situation and I do say it's very interesting what's happening over there," she told Andy Cohen.
Advertisement - story continues below
CBS Mornings co-host @GayleKing shares her thoughts on the romantic revelations at Good Morning America. #WWHL pic.twitter.com/YaFFK5Otu0

— WWHL (@BravoWWHL) December 9, 2022
She shared:
"It's just gotten very messy and very sloppy. I do think that. You know, because in the beginning I actually thought — listen, good on "Good Morning America," they're saying that they're not taking them off the air, two consenting adults. But then the more you read, it's just very messy."
King also called it "a sad situation" because kids and families are involved.
Advertisement - story continues below
"And I keep thinking about that. I'm very concerned about that," she added.
On Nov. 30, photos of Robach and Holmes holding hands in a car and affectionately spending time together in a bar were released. Neither Robach or Holmes had announced their divorces from their spouses, which then sparked media attention.
Holmes is seemingly still married to Marilee Fiebig and Robach to Andrew Shue.
However, a source told People that Robach and Holmes didn't start their relationship until after they broke up with their respective spouses.
"This was two consenting adults who were each separated. They both broke up with their spouses in August within weeks of each other," the insider adds. "The relationship didn't start until after that," the source revealed.
Advertisement - story continues below
After their romance was made public, a source confirmed to People that the pair was removed from hosting the morning show.
"GMA decided to have a period of cooling down, because they thought this was unwanted attention," an insider says. "So, for the time being, they're going to be off the air," the source said.
Robach and Holmes have yet to address the controversy and have deactivated both of their social media accounts.
Truth and Accuracy
We are committed to truth and accuracy in all of our journalism. Read our editorial standards.
Comment Down Below
Conversation