News
Georgia Gov. Kemp Blasts Government for 'Mixed Messages' About COVID Mandates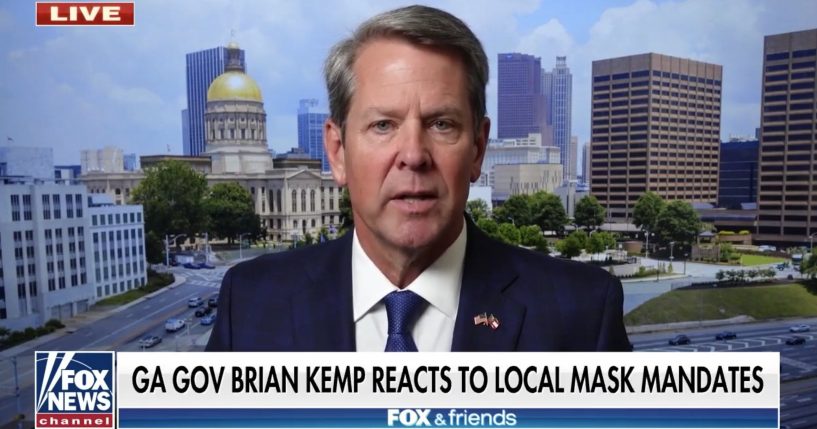 Georgia Gov. Brian Kemp (R) says Americans are struggling to trust the government when it comes to information about the COVID-19 pandemic because of all of the "mixed messages."
Kemp explained during a Fox News appearance Wednesday, "Georgians have been dealing with this pandemic and the reopening of our economy, reopening of schools this time last year, one of the first states in the country to do that."
Arguing mandates are not necessary to "know what to do," Kemp continued, "We need to talk to people about getting vaccinated to protect themselves from the Delta variant and these other variants that are out there. We're starting to see that happen again here in Georgia as our vaccination rates have gone up."
Advertisement - story continues below
The governor also suggested the mandates do not work, adding, "It makes it worse when governments are not consistent. I've been consistent for 15 months. We got mixed messages coming out of the White House, out of CDC and other places, National Institutes of Health, and that's why people don't trust the government anymore when it comes to COVID guidance, and mandates don't work. We need to trust people to do the right thing at the local level."
Watch Kemp's comments below:
Advertisement - story continues below
Fox News's Peter Doocy pressed President Joe Biden on a previous promise about vaccines and masks, as IJR reported.
Do you trust the government when it comes to Covid guidance?
"In May you made it sound like the vaccine was to lose the mask forever," Doocy said.
Biden replied, "That was true at the time. I thought people would understand that getting vaccinated made a gigantic difference."
He added, "What happened was a new variant came along, they didn't get vaccinated, it spread more rapidly and people are getting sick. That's the difference."
Advertisement - story continues below
Biden also said Americans "in all probability" will see more Covid restrictions from the White House. Still, White House Deputy Press Secretary Karine Jean-Pierre stressed the goal is not a lockdown.
"The way we see this is that we have the tools in our tool belt to fight this — this variant," she said, adding, "We are not going to head towards a lockdown."
Additionally, Director of the US. Centers for Disease Control and Prevention (CDC), Rochelle Walensky, clarified that there would be no nationwide vaccine mandate on Twitter.
Truth and Accuracy
We are committed to truth and accuracy in all of our journalism. Read our editorial standards.
Comment Down Below
Conversation