News
Republican Senator Plans to Introduce 'Fauci Act' After Butting Heads During Hearing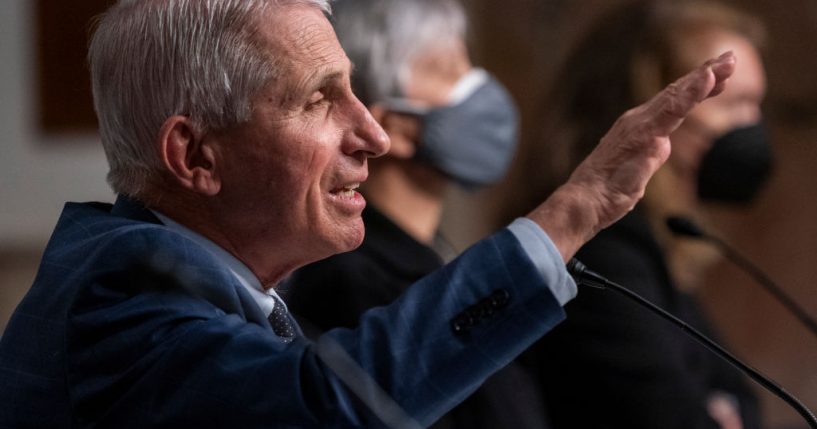 Sen. Roger Marshall (R-Kans.) is expected to introduce the "Fauci Act" after sparring with the top infectious disease expert during a Senate hearing.
A spokesperson for Marshall told The Hill he will be introducing the Financial Accountability for Uniquely Compensated Individuals (FAUCI) Act.
The outlet reported that the legislation would require the Office of Government Ethics (OGE) website to list financial records of administration officials. It would also require the office to provide a list of government officials whose financial records are not available to the public.
Advertisement - story continues below
Earlier this week, Marshall and Fauci clashed over the top infectious disease expert's financial records, as IJR reported.
Marshall asked Fauci if he would "be willing to submit to Congress and the public a financial disclosure that includes your past and current investments."
Fauci responded, "I don't understand why you're asking me that question. My financial disclosure is public knowledge and has been so for the last 37 years or so."
The senator argued the "big tech giants are doing an incredible job of keeping it from being public."
Advertisement - story continues below
He went on to ask, "Where would we find it?"
Fauci replied, "All you have to do is ask for it."
He continued, "You're so misinformed it's extraordinary."
The leading health expert fired back at Marshall when he suggested "shenanigans" may be happening.
"Senator, what are you talking about? My financial disclosures are public knowledge and have been so," Fauci said.
Advertisement - story continues below
After the exchange, Fauci could be heard saying, "What a moron, Jesus Christ."
The NIAID previously issued a statement to Fox News related to the exchange.
"Dr. Fauci and all directors of NIH Institutes and Centers are public report filers due to the responsibilities of their positions pursuant to the last criteria listed in 5 CFR 2634.202(c): 'and each officer or employee in any other position determined by the Director of the Office of Government Ethics to be of equal classification,'" the NIAID said.
Truth and Accuracy
We are committed to truth and accuracy in all of our journalism. Read our editorial standards.
Comment Down Below
Conversation