News
GOP Rep Suggests the Biden Admin's Comments Are 'All a Twitter Media Hallucination'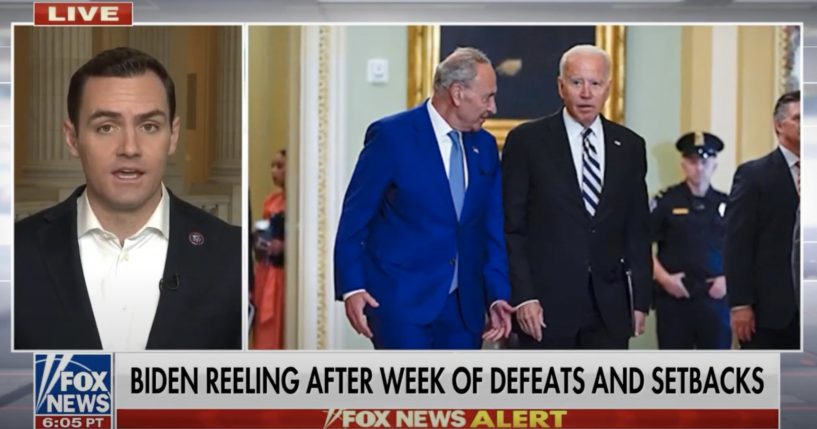 Rep. Mike Gallagher (R-Wis.) says the Biden administration is "governing for Twitter."
During a Friday appearance on Fox News, Gallagher told the network, "I think this week, whether it was the horrific miscalculation of the Georgia speech or the defeat at the Supreme Court or the clear miscalculation to understand Senator Sinema and Senator Manchin's position, I think we're seeing the collapse of the Biden presidency."
He went on to suggest the deeper issue in the White House "right now is that the president is governing for Twitter and not for the American people."
Advertisement - story continues below
Gallagher continued, "I mean all these things they keep saying. 'This is a pandemic of the unvaccinated,' insisting voter ID is Jim Crow. I mean they keep saying this stuff. It's all a Twitter media hallucination. And I'm genuinely wondering, and I have some Democratic colleagues who behind closed doors are wondering where this is coming from and whether the president is actually getting access to the full scope of the facts or whether he's purposely being kept in the dark."
Check out his comments below:
Biden's approval rating dropped to a new low of 33% in a Quinnipiac University poll.
Advertisement - story continues below
White House deputy chief of staff Jennifer O'Malley Dillon issued a memo responding to the poll.
"This week's Quinnipiac poll, just like Quinnipiac's poll for the last five months, is very likely an outlier," O'Malley Dillon writes.
She added, "The FiveThirtyEight average of all public polls finds the President's approval is at 43% approval. Quinnipiac on the other hand is at 33% approval. This is drastically different from all other recent polls."
Doug Schwartz, associate vice president and director of the Quinnipiac University Poll said, "We stand by our numbers," as Axios reports.
White House press secretary Jen Psaki also reacted to the poll numbers.
Advertisement - story continues below
"What you see in most of these polls is a real frustration and exhaustion with COVID and the fact that it's not over," Psaki told reporters.
She continued, "We share that. We understand that. People are fatigued across the country."
Truth and Accuracy
We are committed to truth and accuracy in all of our journalism. Read our editorial standards.
Comment Down Below
Conversation