News
Gosar Questions Why His Siblings Have Been 'Horrific' to Him When Discussing Anime Video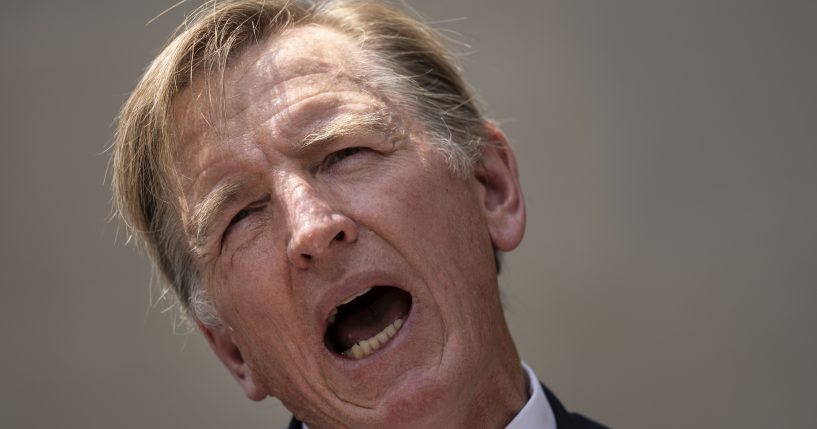 Rep. Paul Gosar (R-Ariz.) is wondering why his siblings have been "horrific" to him, claiming he has "never harmed them."
The lawmaker received backlash after he posted an anime video depicting him killing Rep. Alexandria Ocasio-Cortez (D-N.Y.) and attacking President Joe Biden.
During an interview with SiriusXM's "The Wilkow Majority" Thursday, Gosar was asked if he would have taken the video down if Ocasio-Cortez asked him to.
Advertisement - story continues below
He replied, "Absolutely. I'm not here for that. I don't espouse violence, I don't espouse harming anybody, whether it be a member of Congress, whether it be a President of the United States, whether it be my own brothers and sisters."
Gosar went on to talk about the criticism he has received from his own siblings.
"I've got seven siblings that are horrific to me. I mean, they've done everything. They've called me every name in the book, and yet I have done nothing, nothing to them at all," the Republican lawmaker said.
He added, "I have done nothing irrational. I've done nothing physically. I've never harmed them. I've never done anything. So that should tell you the caliber of the person you're talking to."
Advertisement - story continues below
Check out his comments below:
The House voted on Wednesday to censure Gosar and strip him of committee assignments, as IJR reported. Reps. Liz Cheney (R-Wyo.) and Adam Kinzinger (R-Ill.) voted in favor of the censure.
House Minority Leader Kevin McCarthy (R-Calif.) said ahead of the vote, "Let me be clear. I do not condone violence, and Representative Gosar had echoed that sentiment."
He continued, "The video was deleted, but Democrats won't listen because they will do anything to distract from the failures of one-party rule in one year destroying a nation."
Advertisement - story continues below
Earlier this month, Gosar issued a statement, saying he does not "espouse violence or harm towards any Member of Congress or Mr. Biden."
He argued the video "depicts the symbolic nature of a battle between lawful and and unlawful policies and in no way intended to be a targeted attack against Representative Cortez or Mr. Biden. It is a symbolic cartoon. It is not real life."
Gosar's statement went on, "Congressman Gosar cannot fly. The hero of the cartoon goes after the monster, the policy monster of open borders."
Truth and Accuracy
We are committed to truth and accuracy in all of our journalism. Read our editorial standards.
Conversation