News
Gov. Kristi Noem Vows To See Biden in Court if He Mandates COVID Vaccines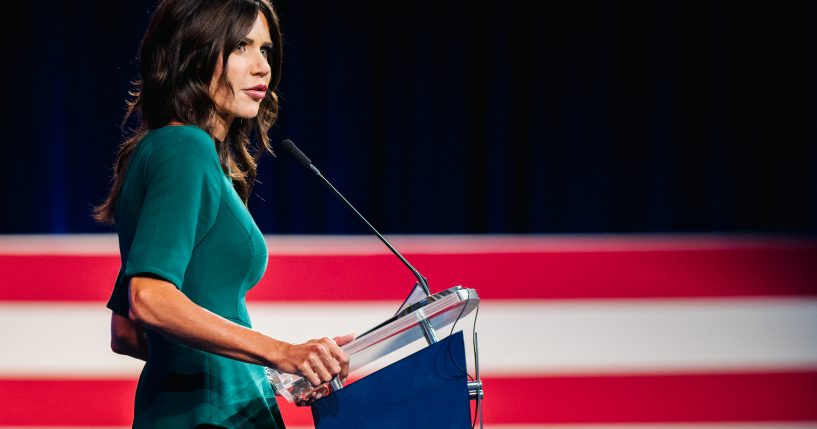 South Dakota Gov. Kristi Noem (R) warned President Joe Biden if he mandates the COVID-19 vaccine, she will see him "in court."
In an op-ed published by USA Today on Thursday, Noem noted Biden claimed last week, "This is not about freedom or personal choice" regarding the COVID-19 vaccine.
She argued, "The value of personal responsibility far outweighs government mandates, especially as we learn more about COVID-19, the vaccine and therapeutic treatment options. The Constitution grants public health authority to the states."
Advertisement - story continues below
Noem made it clear her state would not be mandating vaccinations, adding, "The Biden administration has no business forcing vaccinations on the American people through executive decree or rule. Biden has no constitutional authority to do so."
She pointed out the 10th Amendment leaves public health to the states, explaining, "The states should lead on pandemic response. As governor, I will continue to honor the wishes of our Founders by taking my direction from the Constitution. I will continue to value freedom and personal responsibility."
Mentioning other remarks made by Biden regarding the lack of patience for Americans who have not been vaccinated, Noem suggested Biden "risks demonizing the American people. Americans should not be forced into vaccinations."
The South Dakota governor vowed to make the vaccine available to every resident of her state and "work with our health care experts to take care of the people who live here."
Advertisement - story continues below
While Noem encouraged Americans to get vaccinated, she also acknowledged the choice is theirs to make. Concluding her op-ed, Noem wrote, "President Biden, if you take this unprecedented action and overstep your constitutional authority, we will defend our people and see you in court."
During a speech at the White House last week, Biden announced he is mandating all businesses with more than 100 workers to require them to get vaccinated or tested for the virus weekly. Federal employees would also be required to get the vaccine.
The president was asked about governors who are threatening to challenge his mandate in court, as IJR reported.
"Have at it," Biden said. "I am so disappointed that particularly some of the Republican governors have been so cavalier with the health of these kids, so cavalier with the health of their communities. We're playing for real here. This isn't a game."
Truth and Accuracy
We are committed to truth and accuracy in all of our journalism. Read our editorial standards.
Conversation