News
Grand Jury Calls off Meeting Ahead of Potential Trump Indictment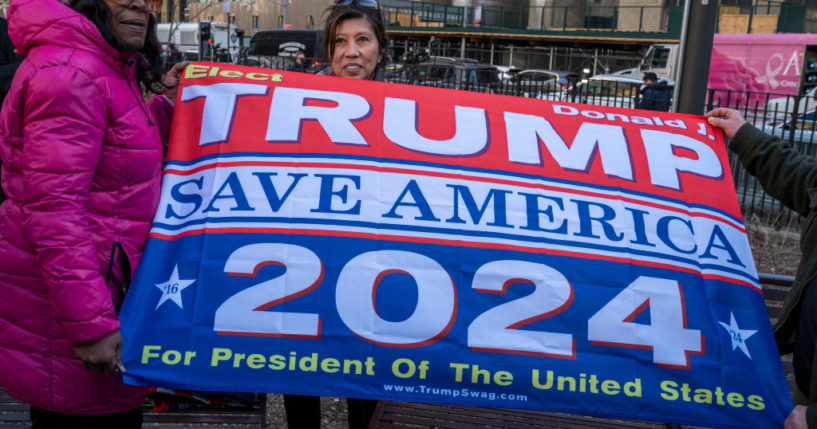 A grand jury in New York investigating the case of former President Donald Trump's hush money payments to Stormy Daniels was told to call off their meeting Wednesday.
Insider reported they were told not to come in, citing two officers with law enforcement.
One of the sources told the outlet it is unlikely the grand jury will come together this week.
Advertisement - story continues below
The outlet noted the jury has been meeting on Mondays, Wednesdays, and Thursdays.
In a post on his Truth Social account Wednesday, Trump took aim at District Attorney Alvin Bragg.
"The Rogue prosecutor, who is having a hard time with the Grand Jury, especially after the powerful testimony against him by Felon Cohen's highly respected former lawyer, is attempting to build a case that has NEVER BEEN BROUGHT BEFORE AND ACTUALLY, CAN'T BE BROUGHT," Trump wrote.
He added, "If he spent this time, effort, and money on fighting VIOLENT CRIME, which is destroying NYC, our once beautiful and safe Manhattan, which has become an absolute HELLHOLE, would be a much better place to live!"
Advertisement - story continues below
Over the weekend, Trump also expressed his anger with Democrats in a video posted to the platform over their investigations into the former president, as IJR reported.
"These four horrible, radical, left Democratic investigations of your all-time favorite president … is just a continuation of the most disgusting witch hunt in the history of our country," Trump argued.
He continued, "It's an absolute disgrace, what's going on."
Trump went on to explain, "Our enemies are desperate to stop us because they know we are the only ones who can stop them, and they know it strongly. Looking at the polls we're — not me, but we — are up by so much you can't even believe it."
Sources close to Trump told CBS News if an indictment is handed down, Trump would likely turn himself in.
Advertisement - story continues below
A Trump adviser also said he is thinking about delivering a statement in front of the Manhattan Criminal Court before he turns himself in in the event of an indictment.
Truth and Accuracy
We are committed to truth and accuracy in all of our journalism. Read our editorial standards.
Comment Down Below
Conversation