News
Greta Thunberg 'Rickrolls' Audience at Climate Concert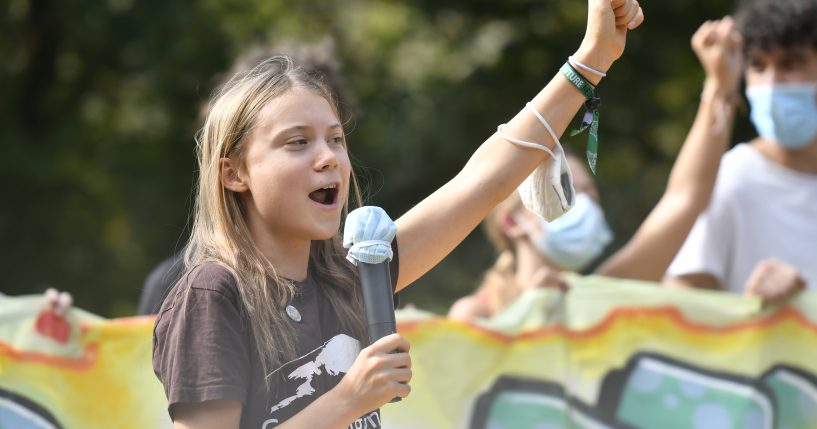 Climate activist Greta Thunberg broke out in song in front of an audience during a youth climate summit.
 While in Stockholm on Saturday for the event, Thunberg brought back a popular internet meme from 2007 called "Rickrolling."
According to The Washington Post, "Since 2007, Rickrolling has been one of the Internet's most enduring pranks. The conceit is simple enough: Someone sends a link that appears to be a video, news clip or, really, anything, but the recipient is instead treated to the music video for Rick Astley's 1987 hit 'Never Gonna Give You Up.'"
Advertisement - story continues below
Thunberg took to stage, telling the audience, "We're no stranger to love." She then began dancing and singing to Astley's song with another performer who joined her on stage."
She received praise from the singer on Twitter.
"Fantastic," Astley wrote.
Fantastic and Tack så mycket! Rick x 🌍 @GretaThunberg @ClimateLive2021 https://t.co/UXs4zypoNc pic.twitter.com/0Y7b1o4OC7

— Rick Astley (@rickastley) October 17, 2021
Advertisement - story continues below
At the event, Thunberg broke from her usual approach of criticizing world leaders for failing to do enough to address climate change.
Last month, Thunberg appeared before a Youth4Climate event, arguing it has been 30 years of "blah, blah, blah."
She added, "So-called leaders have cherry picked young people to meetings like this to pretend they are listening to us, but they are not listening."
Thunberg went on to stress that "there is no planet B … Change is not only possible but necessary, but not if we go on like we have until today."
During the House Oversight Environment Subcommittee hearing in April, Thunberg questioned politicians about how long they believe they can "ignore the climate crisis," as IJR reported.
Advertisement - story continues below
"You get away with it now, but sooner or later people are going to realize what you have been doing all this time," she said.
Truth and Accuracy
We are committed to truth and accuracy in all of our journalism. Read our editorial standards.
Conversation