News
'A Hot Mess 24/7': Grisham Describes Working in the Trump White House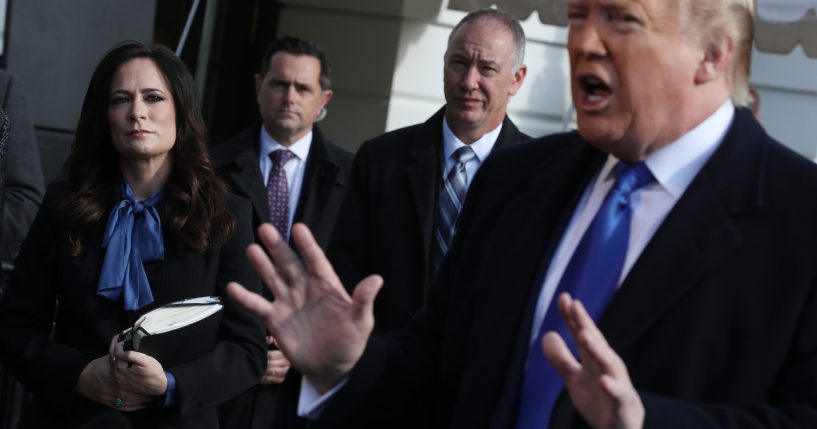 Former White House Press Secretary Stephanie Grisham is speaking out about her time working in the Trump administration, suggesting she could "give you endless metaphors" to describe it.
Politico published an excerpt of Grisham's upcoming book, "I'll Take Your Questions Now: My Time in the Trump White House," set to be published Tuesday.
Grisham compared working as the former president's spokesperson to "sitting in a beautiful office while a sprinkler system pours water down on you every second and ruins everything on your desk — except in this case the water took the form of tweets and words and statements."
Advertisement - story continues below
She continued, "I can give you endless metaphors to describe the Trump White House from a press person's perspective — living in a house that was always on fire or in an insane asylum where you couldn't tell the difference between the patients and the attendants or on a roller coaster that never stopped — but trust me, it was a hot mess 24/7."
Grisham suggested a question in itself was "how people did the job without going crazy."
She explained, "Maybe none of us did. Trump, by the way, never understood that he usually was the one screwing up the messaging."
The former press secretary also reflected on her time working for former First Lady Melania Trump in the East Wing.
Advertisement - story continues below
"When I worked for the first lady in the East Wing, we had all come to call Jared and Ivanka 'the interns' because they represented in our minds obnoxious, entitled know-it-alls," Grisham wrote.
She added, "Mrs. Trump found that nickname amusing and occasionally used it herself. Now, during one of the most important crises to hit the country in a century, the interns were behaving true to form."
In April of 2020, Grisham left her job as press secretary after eight months. She did not hold regular press briefings.
Truth and Accuracy
We are committed to truth and accuracy in all of our journalism. Read our editorial standards.
Comment Down Below
Conversation