News
Hakeem Jeffries Criticizes Clarence Thomas Over Positions on Issues Facing Supreme Court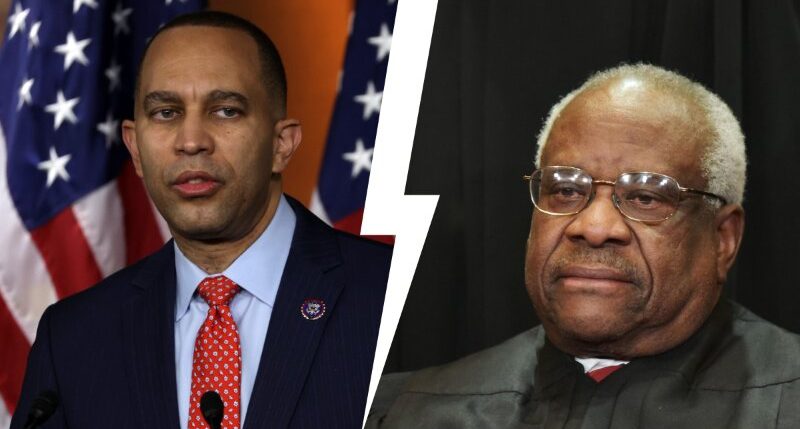 Rep. Hakeem Jeffries (D-N.Y.) went after Supreme Court Justice Clarence Thomas over his positions on certain issues.
"Let me ask this question of brother Thomas," Jeffries said during a House Judiciary Committee hearing Wednesday.
He added, "Why are you such a hater? Hate on civil rights. Hate on women's rights. Hate on reproductive rights. Hate on voting rights. Hate on marital rights. Hate on equal protection under the law. Hate on liberty and justice for all. Hate on free and fair elections. Why are you such a hater?"
Advertisement - story continues below
Jeffries suggested Thomas thinks he can "get away with it" and "escape public scrutiny."
Watch his remarks below:
A simple question for Justice Clarence Thomas.

Why are you such a hater? pic.twitter.com/hMLoWo1FSc

— Hakeem Jeffries (@RepJeffries) May 11, 2022
Additionally, Jeffries argued if Thomas "really wants to deal with bullying in America or this problem of people supposedly unwilling to accept outcomes that they don't like, I've got some advice for Justice Thomas."
Advertisement - story continues below
He continued, "Start in your own home. Have a conversation with Ginni Thomas. She refused to accept the legitimacy of the 2020 presidential election. Why? Because she didn't like the outcome."
Jeffries accused her of trying to "steal the election, overthrow the United States government and install a tyrant. That's bullying."
Is Clarence Thomas a "hater"?
Last week, Thomas spoke out about the protests taking place in response to the leaked draft opinion showing the Supreme Court would overturn Roe v. Wade.
"We are becoming addicted to wanting particular outcomes, not living with the outcomes we don't like," Thomas said during a judicial conference.
He added, "We can't be an institution that can be bullied into giving you just the outcomes you want. The events from earlier this week are a symptom of that."
Advertisement - story continues below
Others are calling for increased security measures around the homes of justices, including Thomas.
Virginia Gov. Glenn Youngkin (R) penned a letter to officials in Fairfax County urging them to expand a security perimeter around the residences of justices Samuel Alito, Thomas, and Amy Coney Barrett, as The Hill reported.
"This request is based on credible and specific information received about upcoming activities planned at or involving the homes of the Justices in Fairfax County," Youngkin's letter states.
He continued, "We believe for the safety of the Justices and their families, their neighbors, and the law enforcement heroes dedicated to preserving peace and order in our communities."
Advertisement - story continues below
Youngkin explained the perimeter should be extended to "ensure both the safety of the Justices, their neighbors and the demonstrators."
Truth and Accuracy
We are committed to truth and accuracy in all of our journalism. Read our editorial standards.
Comment Down Below
Conversation