News
Hillary Clinton Laughs at Question About Running Again in 2024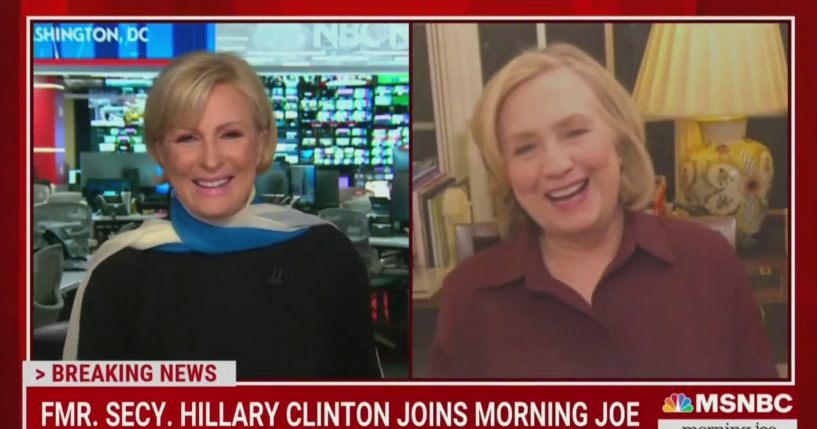 Former Secretary of State Hillary Clinton responded to a question about running again in 2024 with laughter.
During an appearance on "Morning Joe," host Mika Brzezinski asked Clinton if she is "open" to running for president again.
Clinton responded by laughing and added, "No, no, no. But I am certainly going to be active in supporting women running for office, and other candidates who I think should be reelected or elected, both women and men."
Advertisement - story continues below
Watch the video below:
https://twitter.com/Mediaite/status/1501202915960176654
She also acknowledged there is "a big debate going on about the future of democracy."
Clinton continued, "I will stay active in all those debates."
Advertisement - story continues below
In January, The Wall Street Journal suggested that "several circumstances—President Biden's low approval rating, doubts over his capacity to run for re-election at 82, Vice President Kamala Harris's unpopularity, and the absence of another strong Democrat to lead the ticket in 2024—have created a leadership vacuum in the party, which Mrs. Clinton viably could fill."
In December, Biden said he would run again if "he's in good health."
Should Clinton run in 2024?
When asked whether he would run against Trump if he were the Republican nominee, Biden replied, "Why would I not run against Donald Trump as the nominee?"
He added, "That would increase the prospect of running."
During the Conservative Political Action Conference in Orlando, Florida, last month, Trump suggested he would run again.
Advertisement - story continues below
"We did it twice, and we'll do it again," Trump said. "We're going to be doing it again a third time."
According to the results of the 2024 Republican GOP presidential nomination straw poll, 59% of respondents said they would vote for Trump if the 2024 Republican primary for president in their state were held today.
In another poll without Trump in the running, Florida Gov. Ron DeSantis (R) captured 61% of the votes.
Truth and Accuracy
We are committed to truth and accuracy in all of our journalism. Read our editorial standards.
Comment Down Below
Conversation