News
Hillary Clinton Confronted About Dems Focusing on 'Activist Causes' and What That Means for Elections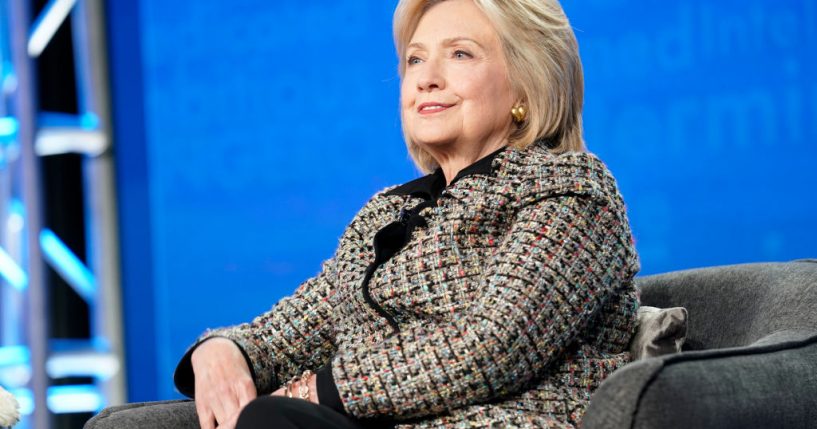 Former Secretary of State Hillary Clinton was confronted on how "activist causes" could affect Democrats' chances in upcoming elections.
During an interview with The Financial Times, Clinton agreed that "Democrats seem to be going out of their way to lose elections by elevating activist causes, notably the transgender debate, which are relevant only to a small minority."
She explained, "We are standing on the precipice of losing our democracy, and everything that everybody else cares about then goes out the window."
Advertisement - story continues below
Clinton continued, "Look, the most important thing is to win the next election. The alternative is so frightening that whatever does not help you win should not be a priority."
happy Pride from Hillary Clinton pic.twitter.com/eh0Ikj7Qud

— Sarah Jones (@onesarahjones) June 19, 2022
Mentioning the "defund the police" movement, Clinton told the outlet, "You need accountable measures. But you also need policing. It doesn't even pass the common-sense politics test not to believe that."
She added, "Some positions are so extreme on both the right and the left that they retreat to their corners . . . Politics should be the art of addition not subtraction."
Advertisement - story continues below
Additionally, Clinton was asked if she believes former President Donald Trump will run again.
"I think if he can he's going to run again," Clinton said.
Do you agree with Clinton?
She continued, "Follow the money with Trump — he's raised about $130mn sitting in his bank account that he used to travel around, to fund organising against elections . . . I don't know who will challenge him in the Republican primary."
When asked if she could see herself running again, Clinton replied, "No, out of the question."
Clinton went on to tell the outlet she expects President Joe Biden to run.
Advertisement - story continues below
"He certainly intends to run. It would be very disruptive to challenge that," Clinton said.
The New York Times recently reported that to nearly all Democrats the newspaper interviewed, "The president's age — 79 now, 82 by the time the winner of the 2024 election is inaugurated — is a deep concern about his political viability."
The Times noted, "They have watched as a commander in chief who built a reputation for gaffes has repeatedly rattled global diplomacy with unexpected remarks that were later walked back by his White House staff, and as he has sat for fewer interviews than any of his recent predecessors."
Truth and Accuracy
We are committed to truth and accuracy in all of our journalism. Read our editorial standards.
Comment Down Below
Conversation