News
Ilhan Omar Suggests Protesting Islamic Law Is the Same as Fighting for the Right to an Abortion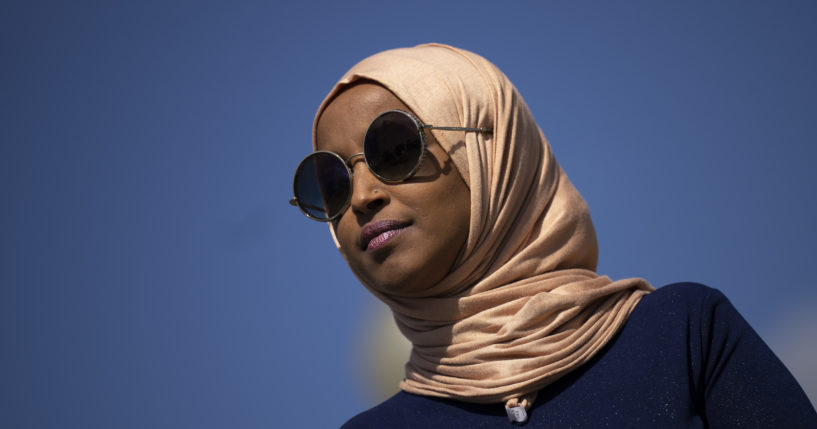 Rep. Ilhan Omar (D-Minn.) suggested women in the United States fighting for abortion rights are facing similar challenges to those protesting Islamic law.
Omar made the comments during a campaign rally to re-elect Minnesota Attorney General Keith Ellison last week.
"As we watch the brave, incredible young girls in schools in Iran who are standing up to teachers, young women in buses and in public streets who are saying 'no' to the morality police – because there is no morality in trying to oppress women," Omar said.
Advertisement - story continues below
She continued, "There is no morality in forcing people to participate in a religion they don't want to. And there is no morality in believing government's our God."
Omar argued that "we know the women in Iran are bravely chanting, 'Women, Life, Freedom' for their rights, for their right to bodily autonomy."
She went on, "So, here in the United States, when the right extremists are challenging our bodily autonomy, we have to stand up and say, 'Women, Life, Freedom.'"
Watch Omar's comments below:
Advertisement - story continues below
Over the summer, Omar was arrested during a protest outside the Supreme Court following its decision to overturn Roe v. Wade, as IJR reported.
Do you think Omar is right?
"Today I was arrested while participating in a civil disobedience action with my fellow Members of Congress outside the Supreme Court. I will continue to do everything in my power to raise the alarm about the assault on our reproductive rights," Omar tweeted at the time.
Over the weekend, thousands gathered across the country protesting and demanding abortion access, as The Washington Post reported.
"Now, everything feels very much like a fight for everything we love," Rachel O'Leary Carmona, the executive director of the Women's March, told the Post.
Advertisement - story continues below
She added, "It's the first election since Roe has fallen in this new era of American democracy, and it's really important that women turn out as a voting bloc."
However, the outlet pointed out a small group of counter protesters arrived in the nation's capital.
Comedian and actress Lea DeLaria reportedly addressed the rally.
"Women have a lot of rage right now," she said.
Advertisement - story continues below
DeLaria continued, "We are going to make them listen to us. We have had it."
Truth and Accuracy
We are committed to truth and accuracy in all of our journalism. Read our editorial standards.
Comment Down Below
Conversation