News
Jan. 6 Committee Issues Another Round of Subpoenas to 11 More Individuals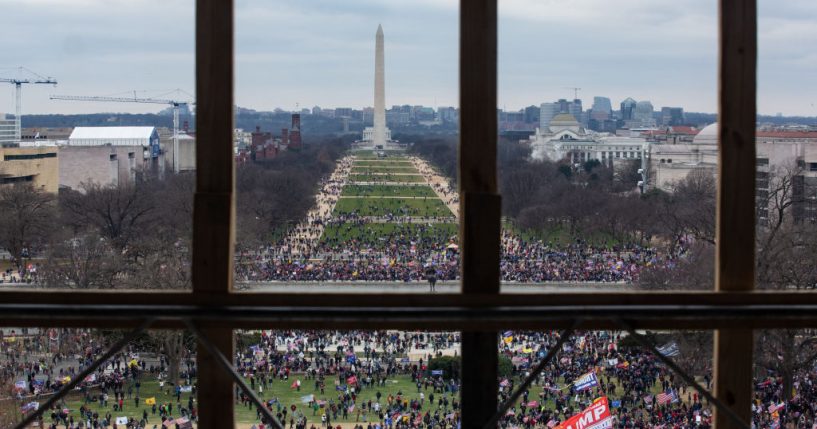 The House select committee investigating the January 6 attack on the U.S. Capitol sent subpoenas to 11 individuals tied to the events leading up to the riot.
According to a press release from the committee, the subpoenas were issued "for deposition testimony and records to individuals tied to the events and rallies leading up to the January 6th insurrection, including the January 6th rally at the Ellipse that immediately preceded the violent attack on the U.S. Capitol."
They were sent to the 11 individuals "as part of the Select Committee's efforts to collect information from them and their associated entities on the planning, organization, and funding of those events. In letters to rally organizers, Chairman Thompson instructed witnesses to testify at depositions and to produce a sweeping range of records."
Advertisement - story continues below
The subpoenas seek a range of records for materials dealing with the planning, funding, and participation in the rally on Jan 6th, 2021 on the Ellipse, rallies at Freedom Plaza on Nov 14th and Dec 12th, 2020, and two "March for Trump" nationwide bus tours.

— January 6th Committee (@January6thCmte) September 29, 2021
Rep. Bennie Thompson (D-Miss.) reiterated the purpose of the committee is to investigate "the facts, circumstances, and causes of the January 6th attack and issues relating to the peaceful transfer of power, in order to identify and evaluate lessons learned and to recommend to the House and its relevant committees corrective laws, policies, procedures rules, or regulations."
He continued, "The inquiry includes examination of how various individuals and entities coordinated their activities leading up to the events of January 6, 2021."
The press release explained Women for America First (WFAF) organized the rally on the 6th. The subpoenas reportedly seek "a range of records that include materials dealing with the planning, funding, and participation in the events and bus tours; social media activity of associated entities; and communications with or involvement of Trump Administration officials and lawmakers."
Advertisement - story continues below
Amy Kremer, founder and Chair of WFAF, Kylie Kremer, founder and Executive Director of WFAF, Maggie Mulvaney, the niece of former acting White House Chief of Staff Mick Mulvaney, and Katrina Pierson, a former Trump campaign official, are among the individuals who were issued subpoenas.
The subpoenas come less than a week after the committee issued subpoenas to four top Trump White House officials, as IJR reported.
Former Trump White House chief of staff Mark Meadows, former deputy chief of staff Dan Scavino, former adviser Steve Bannon and Kash Patel, who acted as a former chief of staff to then-acting Secretary of Defense Christopher Miller were issued subpoenas.
Truth and Accuracy
We are committed to truth and accuracy in all of our journalism. Read our editorial standards.
Conversation