Rep. Jim Jordan on Impeachment Effort: These Actions 'Will Only Continue to Divide the Nation'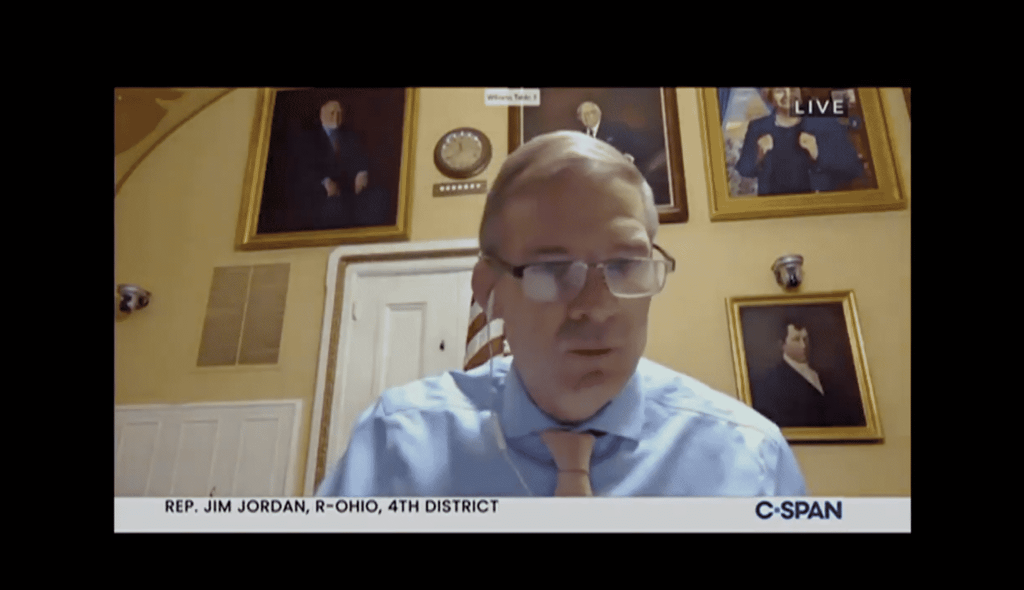 Rep. Jim Jordan (R-Ohio) is warning the efforts to impeach President Donald Trump a second time will only lead to more division.
"Congress needs to stop this, this effort to remove the president from office just one week before he is set to leave. Continued calls to impeach the president or remove him from office using the 25th Amendment, I don't think, are healthy for our nation," Jordan said during a House Rules Committee hearing on Tuesday.
He continued, "Rushing this resolution to the floor will do nothing to unify or heal the country. Under the plan Speaker Pelosi laid out on Sunday, the Democrats plan to impeach the president a second time just days before, as I said, he is set to leave. These actions, again, will only continue to divide the nation."
Check out the video below:
Rep. Jim Jordan weighs in on the impeachment effort: "These actions will only continue to divide the nation." pic.twitter.com/HWukqGwD9K

— The Recount (@therecount) January 12, 2021
Jordan is among those who urged Trump not to concede earlier last month, as IJR previously reported.
He later voted to overturn the Electoral College results.
Trump awarded Jordan the Presidential Medal of Freedom on Monday for his defense of the president amid impeachment and the Russia investigation.
The president addressed the recent push for impeachment while speaking to reporters on Tuesday, as IJR previously reported.
"On the impeachment, it's really a continuation of the greatest witch hunt in the history of politics," Trump said. "It's ridiculous. It's absolutely ridiculous. This impeachment is causing tremendous anger, and you're doing it and it's really a terrible thing that they're doing."
He added, "For Nancy Pelosi and Chuck Schumer to continue on this path, I think it's causing tremendous danger to our country, and it's causing tremendous anger."
House Majority Leader Steny Hoyer reportedly told his colleagues they would begin the process on Wednesday if Vice President Mike Pence fails to invoke the 25th Amendment to remove Trump from office.