News
John Bolton Predicts 'We're Going to Pay for' Afghanistan Withdrawal for 'A Long Time'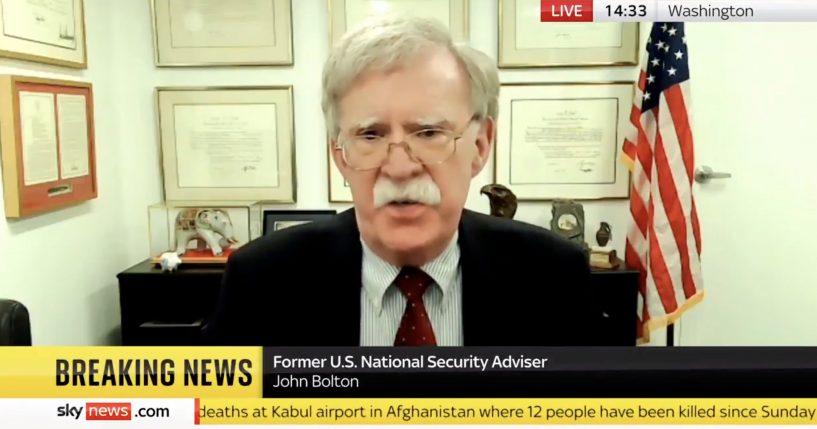 Former national security adviser John Bolton called the decision to pull U.S. troops out of Afghanistan a "catastrophic mistake."
During an interview with Sky News, Bolton said, "I think this has sacrificed a strategic objective we've had these last 20 years to prevent a repetition of the 9/11 attacks. I think that strategic objective remains valid, and I'm very worried, not just about what's going to happen in Afghanistan. I'm very worried about the implications of this mistake for the U.S. and the west as a whole."
He added, "I think we're going to pay for this for a long time."
Advertisement - story continues below
When asked who is to blame for the situation in Afghanistan, Bolton replied, "I think both Trump and Biden wanted to do that, have wanted to do it for a long time and really on that question, their opinions are like Tweedledee and Tweedledum. This is a Trump-Biden withdrawal."
Watch his comments below:
Former US National Security Adviser John Bolton says the decision to withdraw troops from Afghanistan was a "catastrophic mistake", adding "I think we're going to pay for this for a long time".

Latest: https://t.co/JSM3LNqksO pic.twitter.com/DQhc9FQaZd

— Sky News (@SkyNews) August 19, 2021
He continued, "The second question, however, is the execution of the decision to withdrawal and that, seven months into his administration, is entirely Biden's responsibility. I think it's been bungled terribly, so it was already one major mistake has taken on even graver consequences because of how poorly this whole effort has been conducted."
Advertisement - story continues below
Bolton suggested giving Afghanistan back to the Taliban "will result in Al-Qaeda and ISIS and other terrorist groups taking privilege sanctuary there again and that the risk of threats will go up."
He added, "It was always better to conduct forward defense in Afghanistan than to fight in the streets and skies over America. That hasn't changed except now that's probably where we will have to fight."
During an interview with ABC News' George Stephanopolous, Biden was asked if he would have withdrawn from Afghanistan if the Trump administration had not agreed with the Taliban to pull troops out, as IJR reported.
Biden responded, "I would have tried to figure how to withdraw those troops, yes."
Truth and Accuracy
We are committed to truth and accuracy in all of our journalism. Read our editorial standards.
Comment Down Below
Conversation