News
Rep. Jim Jordan Says He Thinks Trump Will Run in 2024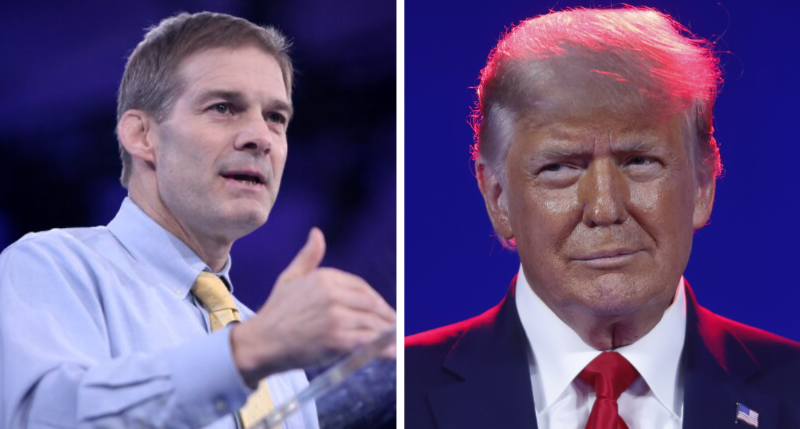 Former President Donald Trump is still not saying whether he plans to run for president in 2024.
However, Rep. Jim Jordan (R-Ohio) told a group of Republicans in Iowa, "I think he's gonna run."
"I want him to run. He's proven he can take the heat. We're at a moment now where you've got to have someone who's willing to fight, willing to stand up to all the abuses," he added.
Advertisement - story continues below
It was also reported that the Ohio Congressman said Trump would announce his campaign "any day now." However, his spokesperson denied that he said that a campaign announcement was imminent.
Trump has hinted that he may run for the Republican presidential nomination in 2024 but has not explicitly said he will.
During an interview on The Daily Wire's "Candace" in May, host Candace Owens asked Trump if he plans to run for president in 2024.
"The answer is I'm absolutely enthused. I look forward to doing an announcement at the right time," the former president said. "As you know, it's very early, but I think people are going to be very, very happy … when I make a certain announcement."
Advertisement - story continues below
He continued, "For campaign finance reasons, you really can't do it too early because it becomes a whole different thing. Otherwise, I'd give you an answer that I think you'd be very happy with."
Finally, he added, "So we are looking at that very, very seriously. And uh, all I'll say is stay tuned!"
Do you want Trump to run in 2024?
Former Trump White House press secretary Sean Spicer told The Washington Examiner that he believes the former president will run again in 2024.
Meanwhile, former Trump adviser Jason Miller was asked during an interview on Cheddar, "What is the likelihood President Trump runs again in 2024?"
"I would say somewhere between 99 and 100 percent. I think he is definitely running in 2024," Miller responded. "I had a good conversation with him last night. I'm going to go see him in another couple days here."
Advertisement - story continues below
He added, "He has not said the magical words to me, but if you talk to him for a few minutes it's pretty clear that he's running."
Truth and Accuracy
We are committed to truth and accuracy in all of our journalism. Read our editorial standards.
Comment Down Below
Conversation