News
Joy Reid Says 'Another Texan' Is Making Abbott's Plan 'Even Douchier'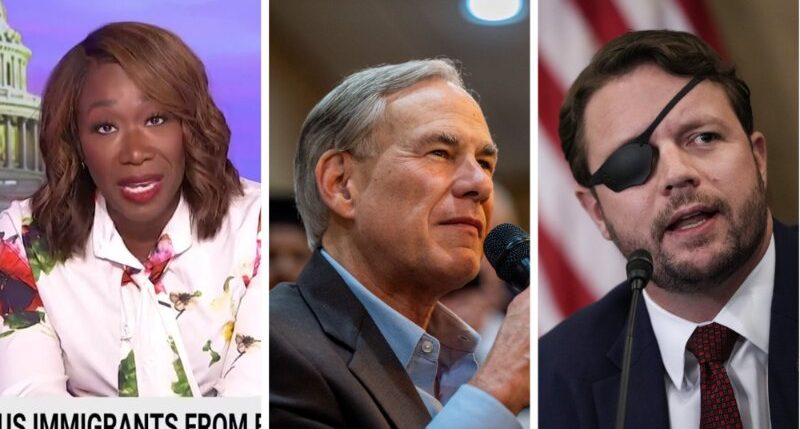 MSNBC host Joy Reid suggested a lawmaker is taking Texas Gov. Greg Abbott's (R) plan for undocumented migrants and making it even worse.
During an episode of her show Thursday night, Reid played a clip from a press conference Abbott held on Wednesday.
"Texas is providing charter buses to send these illegal immigrants who've been dropped off by the Biden administration to Washington D.C.," Abbott said.
Advertisement - story continues below
He added, "We are sending them to the United States Capitol, where the Biden administration will be able to more immediately address the needs of the people that they are allowing to come across our border."
Reid suggested it should not be surprising "given how he treats the people in his own state."
She went on to list a number of actions Abbott has taken to address gender-affirming care, abortion, border security, and COVID-19.
"All of this is extremely poor governance on Abbott's part," Reid said. "But somehow, somehow, another Texan was able to take Abbott's idea and make it even douchier."
Advertisement - story continues below
Reid went on to show a clip of Fox News's interview with Rep. Dan Crenshaw (R-Texas).
Watch her comments below:
.@JoyAnnReid on how #Texas Gov. Greg Abbott should be more focused on the severe droughts and other real threats to his state, rather than engaging in continual, destructive culture war grandstanding. #TheReidOut pic.twitter.com/aO9EhOCvPW

— The ReidOut (@thereidout) April 8, 2022
"Now, he says that he's gonna send them to the U.S. Capitol," Crenshaw said. "I would kindly ask the governor to also consider sending them to Kamala Harris' house."
He continued, "Kamala Harris has forgotten that she's the border czar, so maybe if you put some busloads of illegal immigrants right in her backyard… so she can finally start paying attention to this crisis at our border."
Advertisement - story continues below
The MSNBC host replied, "Did Mexico pay for it?"
She advised Texans to "take a hard look at exactly what their elected officials are actually doing for them."
In March 2021, the president tapped Harris to lead the response to challenges at the U.S.-Mexico border.
Last month, a forthcoming book explored the vice president's frustration with Biden over her role as "border czar," as IJR reported.
Advertisement - story continues below
Authors of the book "This Will Not Pass: Trump, Biden, and the Battle for America's Future" explained the role was "seen by Harris' staff as politically undesirable."
Authors Alexander Burns and Jonathan Martin wrote, "Harris was resigned to the assignment," adding that she did not want to be labeled as "border czar."
They pointed out Harris "did not hesitate to chide Biden for characterizing her assignment in those terms."
Truth and Accuracy
We are committed to truth and accuracy in all of our journalism. Read our editorial standards.
Comment Down Below
Conversation