News
Kamala Harris' Office Facing Another Departure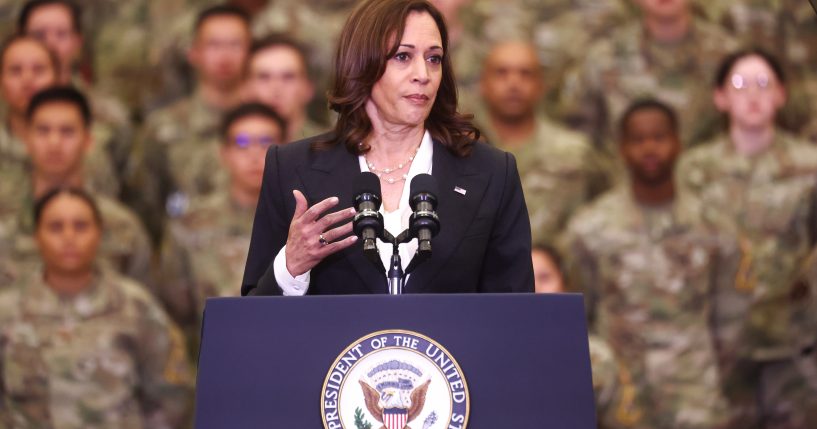 Vice President Kamala Harris' chief of staff is reportedly making an exit.
Tina Flournoy is expected to be replaced by Lorraine Voles, a Democratic communications strategist who joined Harris' office as an adviser in the summer of last year, as CNN reported.
An official told the outlet at the time Voles would focus her efforts on "organizational development, strategic communications and long-term planning."
Advertisement - story continues below
CNN obtained an email sent to staff from Flournoy.
She said she was "eternally grateful to the vice president for giving me this amazing opportunity" and expressed her appreciation for the staff.
"It had been my intention to speak to all of you individually to let you know that I will soon be leaving the Vice President's Office and my role as Chief of Staff," Flournoy wrote.
She added, "I will, however, be talking to you in the coming days. I will say then — in much more poetic language, no doubt — that it has been an honor to work for the Vice President and a great joy to get to know Kamala Harris and see first hand the great passion she brings to her job."
Advertisement - story continues below
UPDATE: Kamala Harris Chief of Staff to exit White House https://t.co/Ug711TlHn2

— Jack Posobiec ☦️ (@JackPosobiec) April 21, 2022
The report comes just weeks after another top Harris aide announced a departure, as IJR reported.
Does the departure surprise you?
According to an internal staff memo, deputy chief of staff Michael Fuchs will remain in his role until early May  to "ensure a smooth transition."
"Fifteen months later, it's almost difficult to recall the magnitude of the challenges we faced when we came in, from an unprecedented pandemic to historically difficult economic circumstances," Fuchs said.
Jamal Simmons, Harris' communications director, said she is "grateful for Michael's tireless work, leadership and the many miles he traveled domestically and internationally … our entire team will miss Michael as he begins this next chapter."
Advertisement - story continues below
Fox News noted Flournoy's exit marks the 13th departure from Harris' office.
Truth and Accuracy
We are committed to truth and accuracy in all of our journalism. Read our editorial standards.
Comment Down Below
Conversation