Commentary
'Political Earthquake': Kari Lake Clinches AZ Republican Gubernatorial Nomination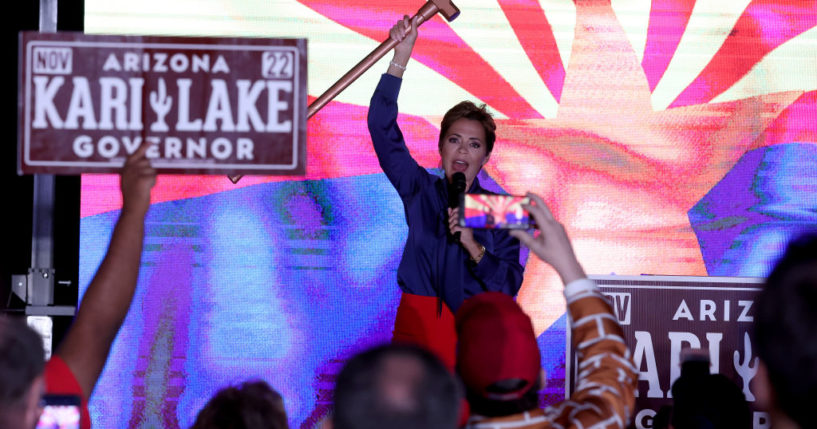 Kari Lake has secured the Arizona Republican Party's gubernatorial nomination, beating out the establishment-backed candidate.
Lake, a former news anchor who received former President Donald Trump's endorsement, defeated lawyer and businesswoman Karrin Taylor Robson — who received the endorsement of former Vice President Mike Pence.
As of Friday morning, she was leading Robson by just under 20,000 votes.
Advertisement - story continues below
In a statement, Lake said, "Arizonans who have been forgotten by the establishment just delivered a political earthquake."
Trump wrote on his TruthSocial platform, "Kari Lake just declared WINNER of Republican Primary in Arizona. She will be a GREAT GOVERNOR!"
BREAKING: Kari Lake wins Republican nomination for governor in Arizona primary election. #APRaceCall at 8:09 p.m. MST. https://t.co/ObAY7DXtIf

— AP Politics (@AP_Politics) August 5, 2022
Robson conceded the race, and said in a statement, "I accept the results, I trust the process and the people who administer it."
Advertisement - story continues below
Lake has adopted Trump's claims of voter fraud and has previously alleged that the 2020 election was stolen and that the election system is "rotten to its core."
Despite her and Trump's repeated assertions that voter fraud swung the election, several recounts and legal challenges did not find evidence to substantiate those claims or alter the outcome. Even an audit by a Trump-friendly group in Arizona wound up determining President Joe Biden actually won the state by a larger margin than official tallies.
But that has not stopped Lake from repeating the claims of fraud. Instead, she raised the possibility that the primary could be stolen from her through fraud.
Yet magically, despite trailing on election night and developing a lead in the following days as ballots were counted — similar to what happened with Biden in 2020 — Lake is not crying that there was fraud in the primary.
Interesting how it only goes one way.
Advertisement - story continues below
But Lake's nomination caps off a primary that nominated several problematic candidates. Blake Masters, who has raised doubts about the 2020 election results and voiced opposition to the United States' intervention in both World Wars, won the state's Senate primary. Meanwhile, Mark Finchem — who sponsored legislation to decertify the 2020 election, won the primary for Arizona's secretary of state.
Arizona was potentially a decent opportunity for Republicans to flip a Senate seat, where until five minutes ago, the state had two Republican senators, as Sen. Mark Kelly (D-Ariz.) is up for reelection in November.
But in a state that seems to have said, "Enough with Trump and his style of politics," and voted for two Democratic senators and for the Democratic presidential nominee for the first time in over 20 years, Republicans chose to vote for the candidates who wrapped themselves around Trump.
According to FiveThirtyEight, Kelly is leading Masters by 8.6 points. Meanwhile, polls show Democrat Katie Hobbs leading Lake.
Advertisement - story continues below
It shouldn't be too much of a surprise that Lake does not look like she will fare well. Whenever she is asked a tougher question, such as an allegation that she was once a fan of drag queens, she quickly tries to revert to talking about the 2020 election or attacks the reporter.
Perhaps voters in Arizona will be so frustrated with Democrats that they'll vote for the Republican ticket. Or come November, we'll be looking at an Arizona with a Democratic governor and two Democratic senators for the first time in years — which would be a "political earthquake," just not the kind that Lake is talking about.
Truth and Accuracy
We are committed to truth and accuracy in all of our journalism. Read our editorial standards.
Comment Down Below
Conversation