News
Kayleigh McEnany Warns the Country Is at a 'Really Dangerous Point' With Messaging on COVID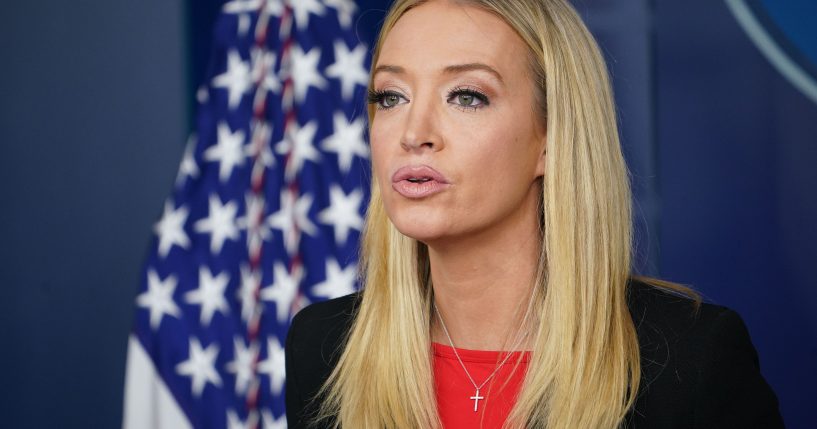 Former White House Press Secretary Kayleigh McEnany suggested Americans have stopped trusting the messaging coming out of the Biden administration on COVID-19.
During Fox News' "Outnumbered" Tuesday, McEnany took a swipe at the Biden administration over "so much mixed messaging" on the pandemic.
"We are at a really, really dangerous point in this country when Axios a few days ago had an article called 'The Biden administration's credibility crisis' and it was saying, look half the country doesn't have faith in President Biden, and I'm paraphrasing here," McEnany explained.
Advertisement - story continues below
She added, "But, when you stop trusting public health officials that's when we have a problem, and we've gotten to that point when they're still using that term the 'pandemic of the unvaccinated.' One example of many. There is such a lack of faith in the messengers coming out of this White House. We need new faces and we need credible faces."
Check out her comments below:
Celine Gounder, an infectious disease expert, and former Biden administration advisory board member told Axios, "The administration in general has lost the confidence of people who would be their natural supporters."
Advertisement - story continues below
The outlet noted the CDC became a viral internet meme when the agency changed its guidance on how long individuals with the virus should remain in isolation.
Former CDC director Tom Frieden said it is "never good to be the butt of jokes," as Axios reported.
Some sources told the outlet they are concerned the administration is not using enough voices to communicate with Americans.
"We're focused on getting Americans the information they need from trusted public health experts like CDC and FDA," an HHS official said. "Science is complex, and it often doesn't boil down simply to a one sentence sound bite, especially during a once-in-a-generation pandemic."
Truth and Accuracy
We are committed to truth and accuracy in all of our journalism. Read our editorial standards.
Comment Down Below
Conversation