News
Kelce Brothers Get Emotional As They Reminisce About Their Mom Being at the Super Bowl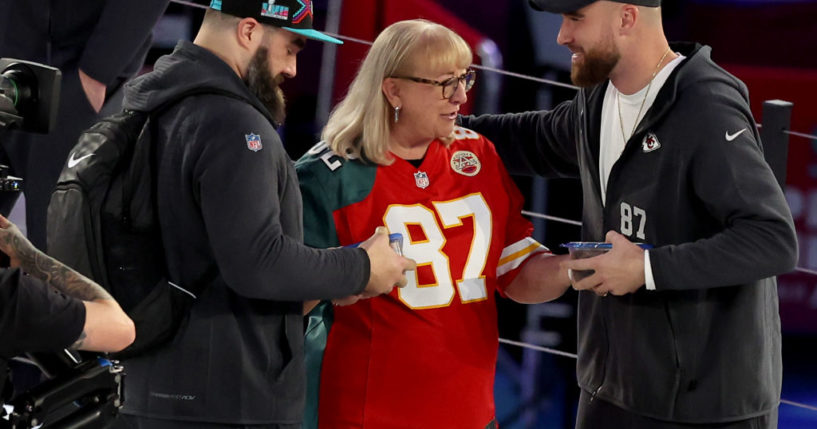 Philadelphia Eagles center Jason Kelce and Kansas City Chiefs tight end Travis Kelce opened up about what it was like to see their mother at the 2023 Super Bowl game.
On the Feb. 15 episode of their podcast New Heights with Jason and Travis Kelce, the brothers got choked up as they spoke about their mother, Donna Kelce.
"The moment I saw mom is when I got really emotional. Because, man, it was so awesome. You know, she was on top of the world for a week," Jason Kelce explained.
Advertisement - story continues below
Travis Kelce added she was "the heavyweight champ" during that time.
"She was on top of it, and she shined the whole time. That was the coolest part. Mom, you absolutely killed it," he continued.
Jason Kelce proceeded to gush over his mother and expressed his happiness that she got to be there. He also gave a shout out to his father.
Advertisement - story continues below
"It was just so cool man, to see her get to celebrate in that with us. It was an awesome moment. I'm just so happy for her and so happy that she got her moment, dad got his," he shared.
Travis Kelce and Jason Kelce made history as the first brothers to play against one another in the Super Bowl, according to The New York Times.
In an interview with the New York Post on Jan. 31, Donna Kelce spoke about the anticipation of seeing her boys play in the game, which aired on Feb. 12.
"It's just surreal," she explained. "It's just like you're in a dream, and you don't really know if it's happening. We've thought about it for the past 10 years that Travis has been in the league that he may someday play them, but they usually only play every four years, so the only time they would ever meet would be in the Super Bowl, but during the season some years. I know they've been talking about it since they were 10."
Truth and Accuracy
We are committed to truth and accuracy in all of our journalism. Read our editorial standards.
Comment Down Below
Conversation