News
Kennedy Suggests the Border Crisis Is 'Intentional' by Biden Admin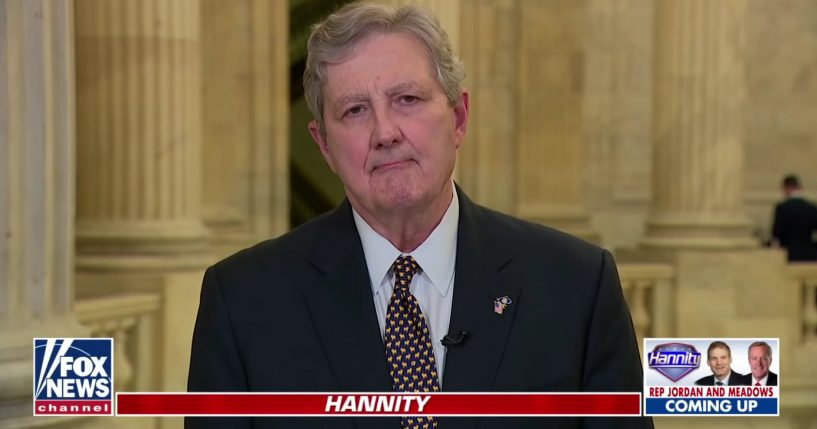 Sen. John Kennedy (R-La.) expressed his frustration with the Biden administration over the crisis at the southern border, suggesting it is "intentional."
During an interview with Fox News on Thursday, Kennedy argued of all of Biden's "screw ups, there is not a single one greater than the crisis at the border."
Considering how the situation at the border got to this point, Kennedy suggested "it may be that the president has put in charge of his immigration policy a bunch of pink haired wokers who don't know their ass from their elbow."
Advertisement - story continues below
He continued, "It may be that the president put in charge of his immigration policy people who should not be allowed to think for themselves because it's too dangerous. It may be that the president put in charge of his immigration policy people who speak English and stupid."
Kennedy went on to explain a second possibility is "that this is all intentional, that the president believes in an open border policy and you have to watch what people do and not what they say."
Watch Kennedy's interview below:
Advertisement - story continues below
On whether there is a solution, Kennedy explained Biden just has to "go back to what we were doing in December, the month before he took office. The 'Remain in Mexico' program, the third country agreements, and the border wall and deportation. It worked then and will work now."
The "Remain in Mexico" policy requires certain asylum seekers to wait in Mexico while their cases are pending in the U.S. immigration courts.
Secretary of Homeland Security Alejandro Mayorkas was pressed on why he will not label the situation at the border a crisis, as IJR reported.
"I call it a heartbreaking situation. A tremendous challenge. We are addressing it with a plan. We are executing on that plan. I by no means diminish the humane issue that it presents," Mayorkas said during an appearance on CNN's "New Day" earlier this week.
Kennedy's comments come just days after footage surfaced of Customs and Border Patrol agents chasing down Haitian migrants at the southern border, as IJR reported.
Advertisement - story continues below
The Department of Homeland Security announced they are opening an investigation into the matter.
Truth and Accuracy
We are committed to truth and accuracy in all of our journalism. Read our editorial standards.
Comment Down Below
Conversation