News
Kevin McCarthy Calls Madison Cawthorn 'Wrong' Over Comments About Zelenskyy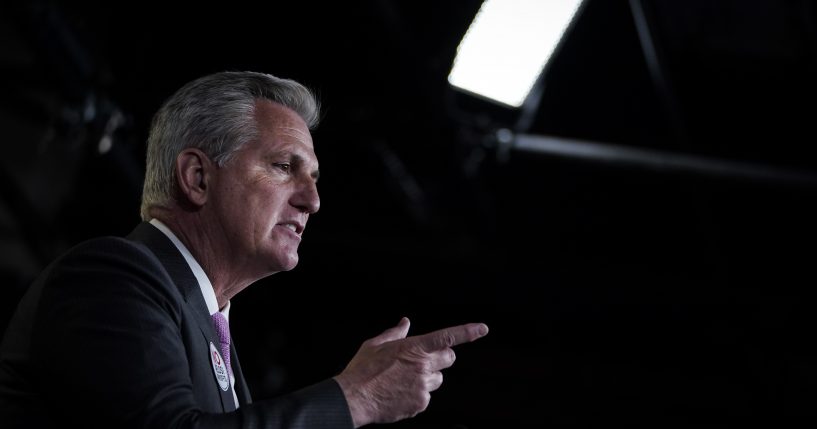 House Minority Leader Kevin McCarthy (R-Calif.) said Rep. Madison Cawthorn (R-N.C.) was "wrong" for comments he made about Ukrainian President Volodymyr Zelenskyy.
During McCarthy's press conference, a reporter noted Cawthorn "called Zelensky a thug. He also suggested [Ukraine] is pushing disinformation."
He asked McCarthy, "Have you spoken to him and do you support his re-election?"
Advertisement - story continues below
The minority leader replied, "Madison is wrong. If there's any thug in this world, it's Putin."
Still, McCarthy said he supports Cawthorn's re-election.
Watch the video below:
Kevin McCarthy says Madison Cawthorn was "wrong" to call Zelensky a "thug" but then says he supports Cawthorn's reelection anyway pic.twitter.com/jZjXgivAGa

— Aaron Rupar (@atrupar) March 18, 2022
Advertisement - story continues below
Cawthorn could be heard on video saying, "Remember that Zelenskyy is a thug. Remember that the Ukrainian government is incredibly corrupt and is incredibly evil and has been pushing woke ideologies."
Here we have @CawthornforNC calling the President of Ukraine, Volodymyr Zelenskyy, "a thug."

What side are you on, Madison??! Because it's clearly not the right side of history. pic.twitter.com/s96arButwj

— VoteVets (@votevets) March 10, 2022
Spokesperson for Cawthorn, Luke Ball, clarified his remarks in a statement.
"The Congressman was expressing his displeasure at how foreign leaders, including Zelensky, had recently used false propaganda to entice America into becoming involved in an overseas conflict," Ball said. "He supports Ukraine and the Ukrainian President's efforts to defend their country against Russian aggression, but does not want America drawn into another conflict through emotional manipulation."
Zelenskyy delivered an emotional plea to Congress on Wednesday. He told lawmakers Russia's invasion of Ukraine is "a terror that Europe has not seen for 80 years and we are looking for a reply, for an answer, to this terror, from the whole world."
Advertisement - story continues below
He added, "Is this a lot to ask for? To create a no-fly zone over Ukraine to save people, is that too much to ask?"
Biden announced the U.S. would provide an additional $800 million in military assistance to Ukraine. A top aide to Zelenskyy later praised Biden on Twitter.
"Grateful to [the US], our reliable partner," Andriy Yermak, wrote in a tweet. "The [President of the United States] does more for [Ukraine] than any of his predecessors."
Truth and Accuracy
We are committed to truth and accuracy in all of our journalism. Read our editorial standards.
Comment Down Below
Conversation