Commentary
Kari Lake Shares Whether She Is 'Entertaining' Running for Senate in 2024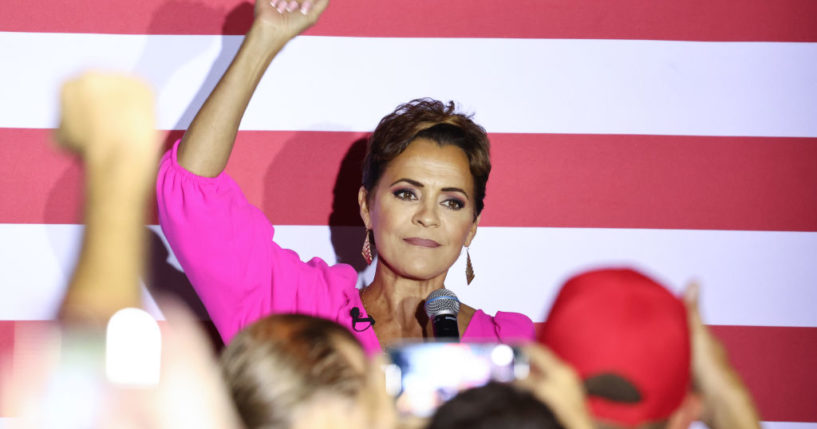 Failed Arizona gubernatorial candidate Kari Lake may be considering running for office again.
On Monday, conservative commentator Charlie Kirk had Lake on his show. He noted Sen. Kyrsten Sinema's (I-Ariz.) decision to leave the Democratic Party could open the door for a three-way Senate race in 2024.
He also pointed out that some conservatives are "clamoring" for Lake to run for Senate.
Advertisement - story continues below
"Is this something you're interested in? Something you're entertaining?" he asked.
Lake responded, "Yes, I am entertaining it."
She stated that her "number one priority" is her court case challenging her election loss.
However, Lake added, "I'm also looking at what happens if we don't get a decent ruling in that. And they want me to go away… And if they want us gone so badly that they're willing to steal an election, then I'm not going to let them have that. I won't go away."
Advertisement - story continues below
Watch the video below:
Now that Kari Lake's election denial grift is beginning to dry up, she says she is entertaining a run for U.S. Senate in 2024. pic.twitter.com/nUh5sCrhq5

— The Republican Accountability Project (@AccountableGOP) February 6, 2023
Do you want her to run for the Senate?
Lake narrowly lost Arizona's gubernatorial election in November. Since then, she has sought to challenge the results.
As a candidate, she had charisma and seemed to capture some of the energy former President Donald Trump brought to the campaign trail. She was also excellent at creating viral moments on social media of her dealing with the press.
But she constantly talked about allegations of elections being stolen and attacked the country's electoral system.
Advertisement - story continues below
And ultimately, she lost a race Republicans won four years earlier by nearly 15 percentage points.
If she were to run for the Senate she would have to answer a big question based on her own claims: If the gubernatorial election was stolen from her, what would stop the Senate election from being stolen if she was the nominee?
In fact, why should Republicans vote at all?
This is the problem with claiming, as Lake has, that the country's election system is "rotten to the core."
Advertisement - story continues below
After feeding conservatives claims about the election being stolen for months, how would she convince them this time their votes will count if nothing changes from the last election?
She would either have to admit she lost the election fair and square and look like a fraud and a sore loser. Or she will have to come up with some way to explain why they can trust their votes will matter this time.
Truth and Accuracy
We are committed to truth and accuracy in all of our journalism. Read our editorial standards.
Comment Down Below
Conversation