News
Lara Trump Warns What Country Canada Could Be Turning Into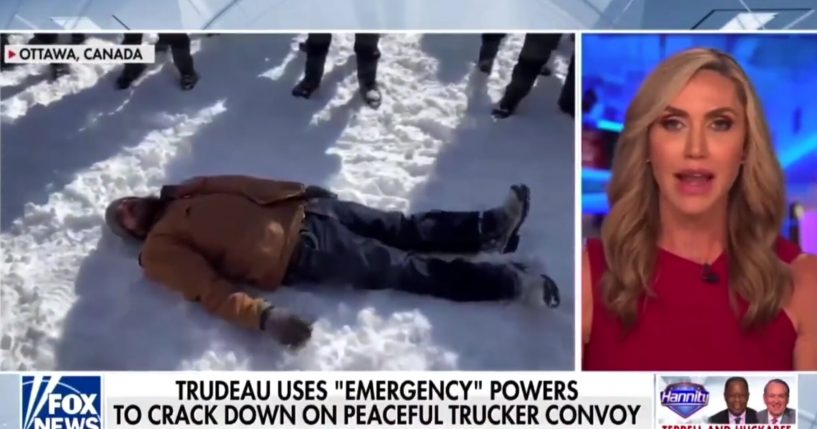 Former President Donald Trump's daughter-in-law Lara Trump says Canada is playing "a really dangerous game."
During an appearance on Fox News, Sean Hannity mentioned a group of Americans that plan to follow in the footsteps of Canadian truckers who are protesting the COVID-19 vaccine mandate.
"It will be interesting to see if the Democrats treat them the same way they treated the summer of 2020 rioters," Hannity said.
Advertisement - story continues below
Trump responded, "They're not gonna be treated like the summer of 2020 rioters."
She then suggested liberals in the United States and Canada "have used the police as pawns."
Trump blasted Prime Minister Justin Trudeau, saying he is "everything – basically – a tyrant would encompass."
She argued it is "almost Gestapo-like."
Advertisement - story continues below
"It is tyranny, what you see happening in Canada. And let me tell you something. When you think of a tyrannical government, you often think of places like North Korea. Sean, this is how it starts. They start chipping away, one by one at your freedoms until you don't even realize they're gone. It is a really dangerous game they're playing up there in Canada," Trump said.
Concluding her comments, Trump told Hannity, "We are all looking forward to see the welcome mat rolled out for the trucker convoy in D.C. I'm sure Nancy Pelosi is waiting and ready to go."
Is Canada turning into North Korea?
Watch the video below:
Brilliant geo-political analyst Lara Trump says Canada is turning into North Korea. pic.twitter.com/8nYcbXrMah

— Mike Sington (@MikeSington) February 22, 2022
The New York Times reported on Saturday police officers cleared out the area where demonstrators gathered in Ottawa. They reportedly moved from truck to truck and arrested protesters.
Advertisement - story continues below
The outlet noted Trudeau declared a national public order emergency allowing the government to take trucks and other vehicles used by protesters.
A representative of the Canadian Civil Liberties Association told the Times the move was "unnecessary, unjustifiable and unconstitutional."
The White House reacted to the trucker protests earlier this month.
"The President expressed his concern that U.S. companies and workers are experiencing serious effects, including slowdowns in production, shortened work hours, and plant closures," the White House said in a statement.
Advertisement - story continues below
Trudeau later told Biden he would take "quick action in enforcing the law."
Truth and Accuracy
We are committed to truth and accuracy in all of our journalism. Read our editorial standards.
Comment Down Below
Conversation