News
Larry Elder Slams Media for Lack of Coverage Related to Attack on Him by Protester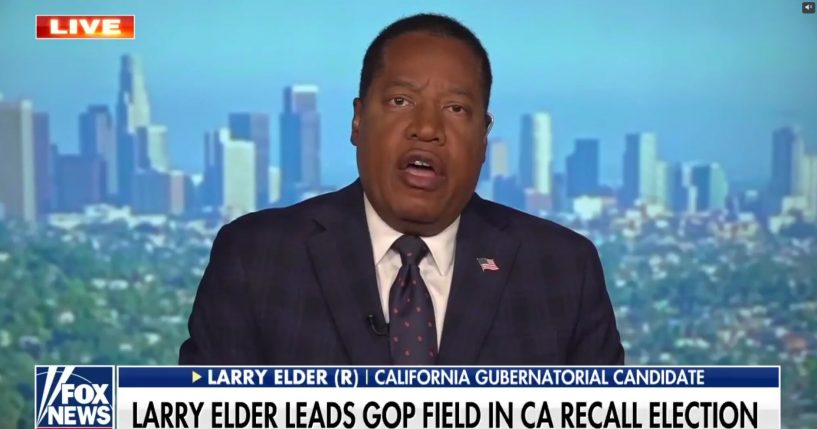 California Republican gubernatorial candidate Larry Elder railed against the media for failing to provide what he feels is adequate coverage of the attack on him by a protester.
During the kick-off of his "Recall Express bus tour," a woman wearing a gorilla mask threw an egg at him and just missed.
Fox News's Dana Perino called the attack "super disturbing" and proceeded to ask Elder, "I wonder if you know if law enforcement is trying to locate her, arrest her?"
Advertisement - story continues below
Elder replied, "I do know that the L.A. County Sheriff Alex Villanueva said that it was a hate crime."
He continued, "If I had been a Democrat, can you imagine what would have happened? It would have been talked about in Bangladesh. They would've called it an example of systemic racism. Because I have an 'R' at the end of my name, the story did not get nearly the kind of coverage I think it otherwise would have gotten."
Fox News host Bill Hemmer pointed out it was not just the one woman in the gorilla mask, adding, "There were several people there. It is all on camera. A lot of people are saying this was assault. So, then, the question is for law enforcement, why has nobody been arrested?"
Elder explained, "That's a good question. Under this governor, 20,000 convicted felons were released early. Maybe the person that threw that thing at me was one of them."
Advertisement - story continues below
Check out Elder's interview below:
An individual who appeared to be a member of Elder's campaign staff confronted the woman. She could be heard saying, "You better take your hands off me, motherf***er! Touch me again! Touch me again!"
Advertisement - story continues below
Others could be heard screaming as Elder was escorted to his SUV, "Get this piece of sh*t out of here!"
Elder responded to the incident in a tweet, saying, "Today I kicked off the Recall Express bus tour. Before we even left Los Angeles, my security detail was physically assaulted, shot with a pellet gun, and hit with projectiles."
He continued, "The intolerant left will not stop us. We will recall Gavin Newsom. We will save California."
Truth and Accuracy
We are committed to truth and accuracy in all of our journalism. Read our editorial standards.
Conversation