News
Mike Lee Blasts DHS Secretary for Not Defending Border Patrol Agents Accused of Whipping Migrants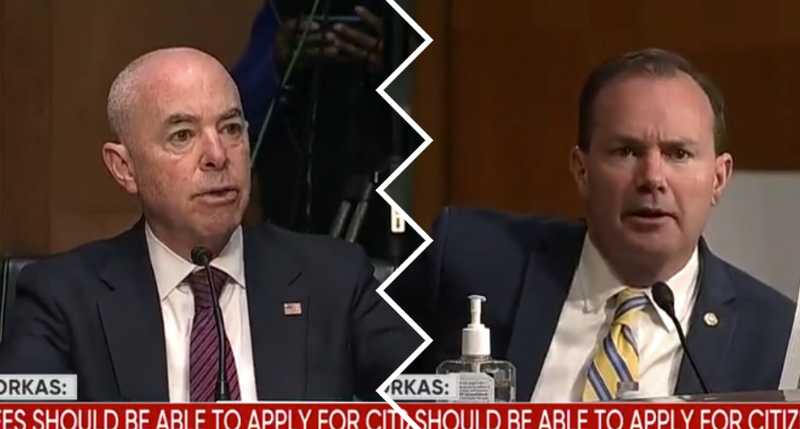 Sen. Mike Lee (R-Utah) confronted Homeland Security Alejandro Mayorkas over why he did not explicitly defend Border Patrol agents accused of whipping Haitian migrants.
During a Senate hearing on Tuesday, Lee confronted Mayorkas for not vocally defending the agents. He asked, "What about the issue with your Border Patrol agents being accused by some folks in the media of whipping illegal immigrants when in fact they were not? Why on earth did you not defend them?"
He added, "Has no one in your entire department ever become aware of how one uses split reins when riding a horse?"
Advertisement - story continues below
"Senator, let me say two things. Number one, I put 100% into my work and I'm incredibly proud to do so. That's number one. And number two, I stand with the men and women of our department through and through. And I will not prejudge facts before…" Mayorkas began.
The Utah senator interrupted to ask, "Did you defend them when they were being attacked for whipping people? Which they were not."
"Senator, what I said quite clearly is that the independent investigation will determine the facts and those facts will drive the outcome. Nothing less and nothing more," Mayorkas said.
Watch the video below:
Advertisement - story continues below
.@SenMikeLee just RIPPED Mayorkas for perpetuating a false narrative and not defending CBP agents who were falsely accused of whipping migrants at the southern border:

"Has no one in your entire department ever become aware of how one uses split reigns when riding a horse?" pic.twitter.com/ZSFua6ZXdO

— Townhall.com (@townhallcom) November 16, 2021
In September, thousands of Haitian migrants crossed the border at Del Rio, Texas, to seek asylum in the U.S.
Do you think Mayorkas should have defended the agents?
Haiti was thrown into political turmoil earlier this year after gunmen assassinated the island nation's president. And in August, a 7.2 magnitude earthquake in Haiti left at least 2,200 people dead.
Images surfaced showing Border Patrol agents aggressively confronting Haitian migrants as they crossed into the U.S.
As The New York Times notes, "The videos appear to show mounted Border Patrol agents corralling migrants and forcing them back to Mexico. Some of the agents were gripping and waving what appeared to be reins, prompting accusations that they had been using whips against them. One video captured an agent shouting an expletive at a migrant."
Advertisement - story continues below
The Department of Homeland Security opened an investigation into the incident, as IJR reported.
The images sparked fierce criticism from many, including Rep. Maxine Waters (D-Calif.), who suggested that "what we witnessed was worse than what we witnessed in slavery."
"Cowboys, with their reins, again, whipping Black people, Haitians, into the water where they're scrambling and falling down when all they're trying to do is escape from violence in their country," she added.
Meanwhile, Vice President Kamala Harris said the coverage "evoked images of some of the worst moments of our history where that kind of behavior has been used against the indigenous people of our country, has been used against African-Americans during times of slavery."
Advertisement - story continues below
And President Joe Biden vowed that the agents involved "will pay."
The photographer who took the images that appeared to depict agents whipping migrants told the NBC News affiliate in El Paso, Texas, KTSM that he and his colleagues did not see agents whip migrants.
In September, Mayorkas said the images "horrified us in terms of what they suggest and what they conjure up." But vowed he would "not prejudge the facts."
Truth and Accuracy
We are committed to truth and accuracy in all of our journalism. Read our editorial standards.
Comment Down Below
Conversation