News
Liberal Journalist Criticizes Biden for 'Most Irresponsible Act' of His Time in Office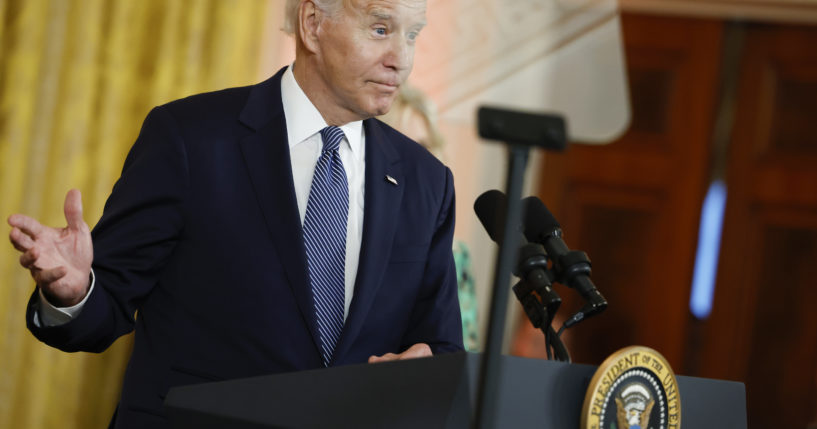 Liberal journalist Jonathan Chait took aim at President Joe Biden for his position on the debt ceiling.
On Tuesday, Chait shared an article on Twitter he wrote for New York Magazine's Intelligencer titled, "Biden Debt-Ceiling Gaffe Could Destroy His Presidency: The president accidentally invited Republicans to melt down the economy. Oops."
Opening his article, Chait mentioned a moment from last week during which a reporter asked Biden if he would support a repeal of the debt ceiling.
Advertisement - story continues below
"A permanent repeal of the debt ceiling? … Just say we don't have a debt limit?" Biden asked, adding, "No. That'd be irresponsible."
In his piece, Chait argued repealing the debt ceiling is "the responsible course of action."
He added, "Leaving the debt ceiling in place invites political chaos and creates the risk of a global economic meltdown with absolutely no benefit whatsoever. Biden's dismissive comment was the most irresponsible act of his entire presidency."
Chait pointed out the debt ceiling is "not an instrument that limits the government's ability to borrow money. The amount of debt is determined by Congress, which sets levels of taxes and spending and borrows the difference between the two."
Advertisement - story continues below
The article explains the concept is a "separate vote to authorize the Treasury Department to actually pay its lenders what it owes them. Because of the dollar's unique role underpinning world markets, a failure to repay would trigger an unpredictable and potentially catastrophic meltdown of global currency markets."
Biden's gaffe about refusing to abolish the debt ceiling sets himself and the country up for disaster. Now it's on Biden and Democrats to fix it. https://t.co/M2HjcAmFdT

— Jonathan Chait (@jonathanchait) October 25, 2022
Do you consider this the "most irresponsible act" of his presidency?
Concluding his article, Chait suggested the "clock is ticking down toward doomsday. Biden's loose talk has made the task all the more difficult but also all the more necessary."
On Monday, Axios reported the Biden administration is in "early, quiet discussions" with key offices in the Senate about raising the debt ceiling during the lame-duck session of Congress.
The outlet noted Biden has increased his warnings in the past few days about what the consequences would be of failing to raise the debt limit.
Advertisement - story continues below
"There's nothing — nothing — that will create more chaos, more inflation, more damage to the American economy than this," Biden said during a Democratic National Committee event Monday.
CNN noted Biden's position on the debt ceiling contradicts that of Treasury Secretary Janet Yellen, who in 2021, voiced her support for abolishing the debt ceiling.
"I think it's become increasingly damaging to America to have a debt ceiling," Yellen said at the time.
She added, "It's led to a series of politically dangerous conflicts that have caused Americans and global markets to question whether or not America is serious about paying its bills. It's flirting with the self inflicted crisis and it really involves the government giving to their treasury secretary and their president conflicting sets of instructions."
Truth and Accuracy
We are committed to truth and accuracy in all of our journalism. Read our editorial standards.
Comment Down Below
Conversation