Lindsey Graham Harassed by Angry Trump Supporters Shouting 'Traitor' at Airport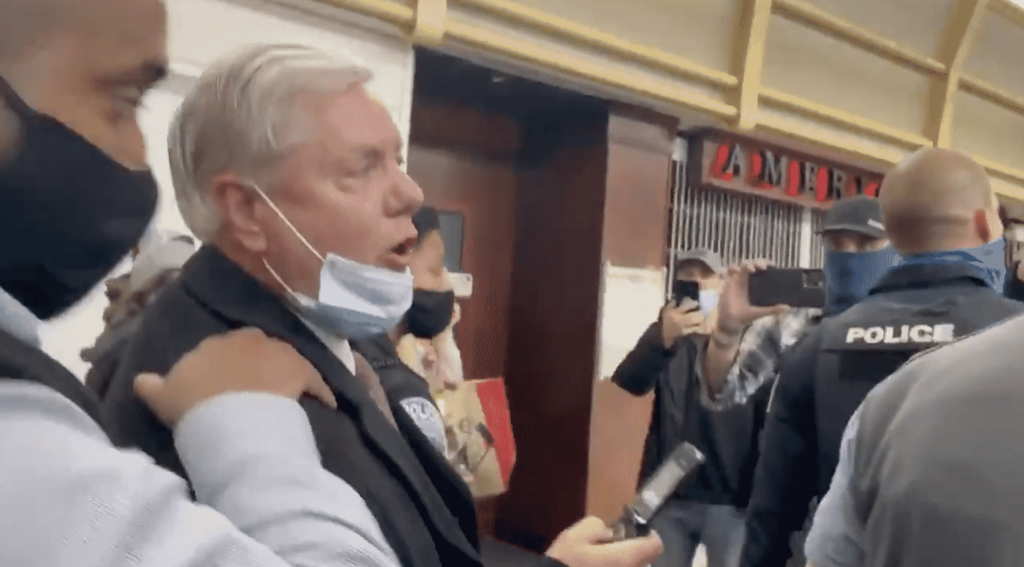 Trump supporters swarmed Sen. Lindsey Graham (R-S.C.) at Reagan National Airport for breaking from the president's attempts to overturn the election, social media videos show.
Before the angry crowd began shouting "traitor," one man can be heard saying, "You work for us."
One woman yelled, "One day [you] will not be able to walk down the street. It is today."
Watch the video below:
A source sends this video of a group of Trump supporters today harassing Sen. Lindsey Graham at Reagan airport and loudly calling him a "traitor" after he publicly broke with Trump earlier this week. pic.twitter.com/XBF8K6DIUD

— Daniel Lippman (@dlippman) January 8, 2021
Security guards followed Graham through the airport while Trump supporters continued to verbally harass him.
"You are a traitor to the country. You know it was rigged…you garbage human being. It's going to be like this forever, wherever you go for the rest of your life," one woman said.
She proceeded to call him a "piece of sh*t."
Watch her comments below:
Some more video of Lindsey Graham being called a "traitor" by Trump supporters at the Reagan airport while surrounded by security.

pic.twitter.com/2vZjYSWyk5

— Alex Thompson (@AlexThomp) January 8, 2021
On Wednesday, Graham made it clear he was no longer interested in helping Trump with his efforts to flip his defeat, as IJR previously reported.
"Trump and I, we've had a hell of a journey. I hate it being this way. Oh my God, I hate it. From my point of view, he's been a consequential president, but today, first thing you'll see. All I can say is count me out. Enough is enough. I've tried to be helpful," Graham said.
He added, "I don't buy this, enough is enough. We gotta end it."
Graham was not the only senator to be harassed by Trump supporters while he was traveling.
Earlier this week, Sen. Mitt Romney (R-Utah) encountered angry Trump supporters in both the Salt Lake City airport and on a plane, as IJR previously reported.
"You're a joke, absolute joke. It's disgusting shame," one woman said.
On the plane he was also met with "traitor" chants.
Last month, Romney expressed his frustration with Trump over his refusal to concede the election.