News
With CNN's Zucker Out, Here Are High Profile Individuals Andrew Cuomo Took Out in His Sexual Harassment Scandal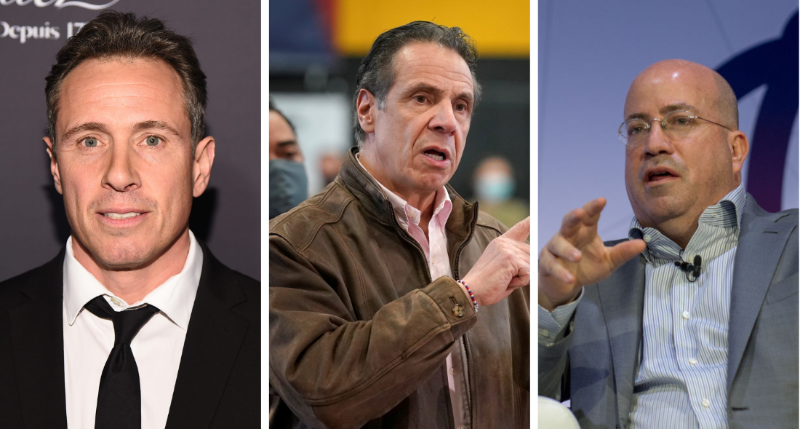 The fall out from former New York Gov. Andrew Cuomo's sexual harassment scandal continued to reverberate as CNN's Jeff Zucker announced his resignation.
In August, New York Attorney General Letitia James (D) released a report that found Cuomo sexually harassed several women.
The scandal led to the resignations of several high profile individuals from a cable news network to the head of an organization founded to support victims of sexual harassment.
Advertisement - story continues below
Here's a review of the individuals who resigned or were fired amid the fall out from the report:
Melissa DeRosa
Melissa DeRosa, a former top aide to Cuomo, resigned after James released her report.
"It has been the greatest honor of my life to serve the people of New York for the past 10 years. New Yorkers' resilience, strength, and optimism through the most difficult times has inspired me every day," DeRosa, who held the highest-ranking appointed position in the state, said in a statement.
Advertisement - story continues below
She added, "Personally, the past 2 years have been emotionally and mentally trying. I am forever grateful for the opportunity to have worked with such talented and committed colleagues on behalf of our state."
Chairwoman of Time's Up Roberta Kaplan:
Roberta A. Kaplan, the chairwoman of Time's Up and co-founder of its legal defense fund, resigned after it was revealed that she represented DeRosa and reviewed an op-ed attacking an accuser of Andrew Cuomo.
"Unfortunately, recent events have made it clear that even our apparent allies in the fight to advance women can turn out to be abusers," Kaplan her resignation letter, adding, "We have felt the raw, personal and profound pain of that betrayal."
Time's Up was founded to fight sexual harassment and advance gender equality.
Advertisement - story continues below
Andrew Cuomo:
Cuomo also announced he would resign following James' report, though he denied any wrongdoing.
"New York Tough means New York loving. And I l love New York, and I love you. And everything I have ever done has been motivated by that love. And I would never want to be unhelpful in any way," he said, adding, "I think that given the circumstances, the best way I can help now is to step aside and let government get back to governing."
Chancellor of the State University of New York Jim Malatras:
Advertisement - story continues below
In December, Jim Malatras, chancellor of the State University of New York, announced his resignation after James' report revealed texts he sent disparaging one of Cuomo's accusers.
CNN's Chris Cuomo
Also in December, CNN announced it suspended now-former anchor Chris Cuomo after new details came to light about the extent of his involvement in helping Andrew Cuomo, his brother, respond to allegations of sexual harassment.
"The documents, which we were not privy to before their public release, raise serious questions," the network said in a statement. "When Chris admitted to us that he had offered advice to his brother's staff, he broke our rules and we acknowledged that publicly. But we also appreciated the unique position he was in and understood his need to put family first and job second. However, these documents point to a greater level of involvement in his brother's efforts than we previously knew."
Advertisement - story continues below
The statement added, "As a result, we have suspended Chris indefinitely, pending further evaluation."
Later the network said it had fired Chris Cuomo after it retained a law firm to review information about his involvement in his brother's defense.
CNN President Jeff Zucker:
On Wednesday, Jeff Zucker said in a statement that during the network's investigation into Chris Cuomo, he was "asked about a consensual relationship with my closest colleague, someone I have worked with for more than 20 years. I acknowledged the relationship evolved in recent years."
Advertisement - story continues below
"I was required to disclose it when it began, but I didn't. I was wrong," he said, adding, "As a result, I am resigning today."
Allison Gollust, chief marketing officer at CNN, confirmed that she had a consensual relationship with Zucker.
Gollust is a former aide to Andrew Cuomo. She worked for the former governor for four months in 2012 and 2013
Politico reports that during the network's investigation of Chris Cuomo, his legal team "raised issues about the relationship between Zucker and Gollust."
Advertisement - story continues below
"Cuomo's legal team asserted that Zucker was hypocritical to suggest Cuomo had a personal conflict of interest when the relationship with Gollust represented a potential conflict as well," the outlet added.
Truth and Accuracy
We are committed to truth and accuracy in all of our journalism. Read our editorial standards.
Comment Down Below
Conversation