News
Man Pleads Not Guilty to Charges Against Him for Incident at 'Squad' Member's Home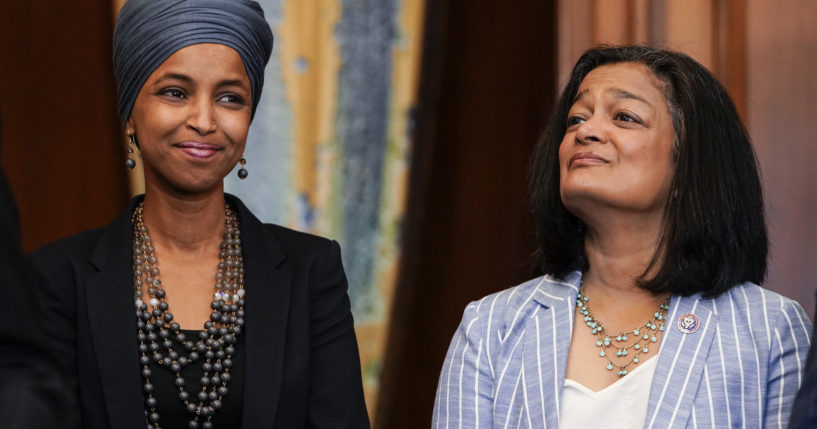 A man has pleaded not guilty to charges against him stemming from an alleged stalking incident with "Squad" member Rep. Pramila Jayapal (D-Wash.).
KING-TV reported that a Seattle man named Brett Forsell was arrested outside of Jayapal's home and charged with felony stalking.
Forsell was allegedly yelling expletives while armed with a firearm.
Advertisement - story continues below
His bail was set at $150,000 during his arraignment hearing on Tuesday, as the outlet noted.
The King County Prosecutor's Office reportedly requested that the bail be set at $500,000, saying Forsell is "likely to commit a violent offense if free in the community," the outlet cited court documents.
Forsell was charged last month.
NEW – the King County Prosecuting Attorney charges Brett Forsell with one count of felony stalking.

He was arrested outside Rep. Pramila Jayapal's house with a gun pic.twitter.com/rVUACTkbI3

— Nicholas Wu (@nicholaswu12) July 28, 2022
Advertisement - story continues below
Jayapal issued a statement following charges pressed against Forsell.
"The news today from the King County Prosecuting Attorney's office that they have charged Mr. Forsell with felony stalking demonstrates that the justice system is doing its work," Jayapal said.
The statement continued, "I am grateful to the King County Prosecutor's Office for holding this man accountable for his dangerous actions, to the victim's advocate for her assistance throughout the process, and to the Seattle Police Department, U.S. Capitol Police, and the House Sergeant at Arms for continuing to keep my family, me, and my staff safe. Now, the Prosecutor's Office and the courts will do their important work to protect all of us."
KING-TV reported last month that a neighbor of Jayapal told police she heard a man yell, "Go back to India, I'm going to kill you."
Jayapal later called 911 and said, "[Unknown] people are outside [my] house in their [vehicle] who have been [using] very obscene language. [My] husband thinks they may have shot a pellet gun, but unsure."
Advertisement - story continues below
Additionally, police said that when they arrived, they discovered the man in the street holding his hands up in the air and having a handgun on his waist, as the outlet reported.
Law enforcement claimed the man "knew who lived at the residence and wanted to pitch a tent on their property. [and that] the victim that he was targeting was of Indian descent."
The congresswoman's office issued a statement following the incident.
"Congresswoman Jayapal confirms that incidents occurred at her Seattle home on Saturday night when she was present. The Congresswoman and her family are safe and appreciate the many calls and good wishes she is receiving from constituents," the statement said.
Advertisement - story continues below
It explained that Jayapal is "very grateful for the swift and professional response from the Seattle Police Department, the US Capitol Police, and the FBI investigators who are working together diligently on the investigation, and ensuring that she and her family stay safe."
Concluding the statement, her office said, "Because this is an ongoing investigation, she will not be commenting further at this time."
Truth and Accuracy
We are committed to truth and accuracy in all of our journalism. Read our editorial standards.
Comment Down Below
Conversation