News
Manchin Signals Bad News for Democrats' Hopes of Reviving Build Back Better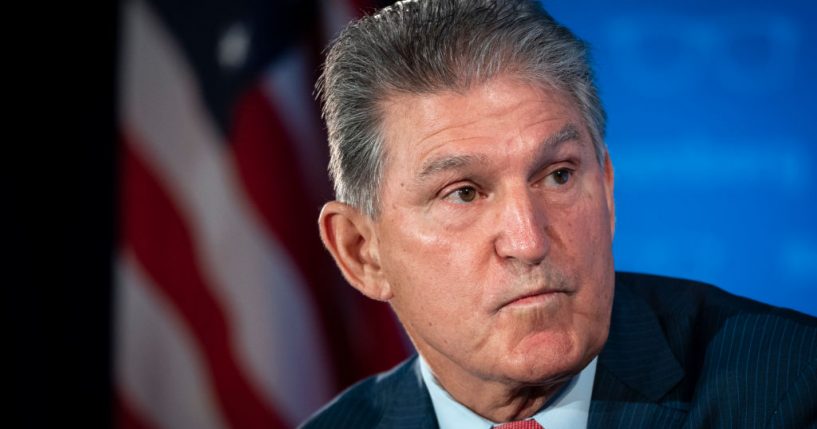 Sen. Joe Manchin (D-W. Va.) is signaling that he is not interested in reviving discussions about Democrats' nearly $2 trillion Build Back Better Act.
Speaking to reporters on Tuesday, Manchin said, "I'm really not going to talk about Build Back Better anymore because I think I've been very clear on that: There [are] no negotiations going on at this time, OK."
Advertisement - story continues below
Manchin added that he feels "as strongly today" as he did when he announced that he would not vote for the spending package last month.
During an interview on "Fox News Sunday" in December, Manchin dashed Democrats' hopes of passing the package as he said, "I cannot vote to continue with this piece of legislation, I just can't. I tried everything humanly possible, I can't get there."
"This is a no, on this legislation," he added.
And in a separate statement, he said, "I have always said, 'If I can't go back home and explain it, I can't vote for it.' Despite my best efforts, I cannot explain the sweeping Build Back Better Act in West Virginia and I cannot vote to move forward on this mammoth piece of legislation."
Advertisement - story continues below
The West Virginia senator once again reiterated his concerns that the bill would add to the deficit and that Democrats are trying to "camouflage the real cost of the intent behind this bill."
"I cannot take that risk with a staggering debt of more than $29 trillion and inflation taxes that are real and harmful to every hard-working American at the gasoline pumps, grocery stores, and utility bills with no end in sight," he added.
Democrats were hoping to use a process known as budget reconciliation to pass the bill, which would have required all 50 Democrats to vote for it with Vice President Kamala Harris casting the tie-breaking vote.'
Without Manchin's vote, the bill would fail to pass the chamber.
However, Axios reported on Sunday that the West Virginia senator is "open to reengaging on the climate and child care provisions" in the Build Back Better bill.
Truth and Accuracy
We are committed to truth and accuracy in all of our journalism. Read our editorial standards.
Comment Down Below
Conversation