News
Manchin Calls on Biden to 'Reverse Course' on Keystone XL Pipeline — Could Bring In 900k Barrels per Day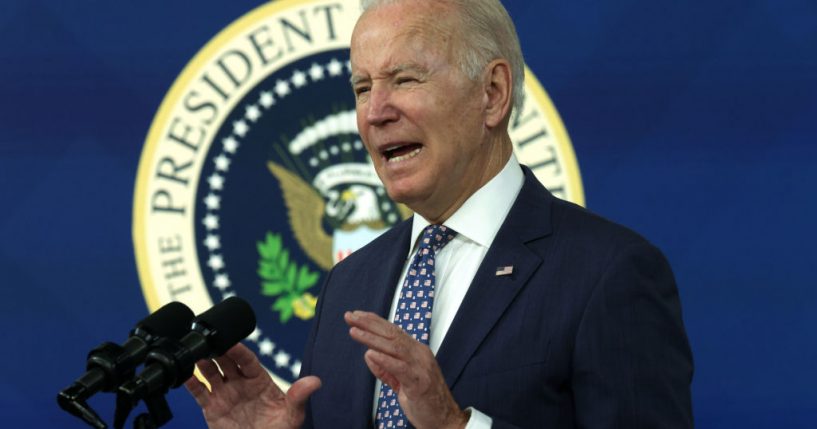 Sen. Joe Manchin (D-W.Va.) reacted to President Joe Biden's decision to release 50 million barrels of oil from the Strategic Petroleum Reserve.
The president made the announcement earlier this week, saying he is "using every tool available to him" to lower gas prices.
Manchin issued a statement this week suggesting there is a better way to address the spike in gas prices.
Advertisement - story continues below
"Today's release from the Strategic Petroleum Reserve is an important policy Band-Aid for rising gas prices but does not solve for the self-inflicted wound that shortsighted energy policy is having on our nation," Manchin said in Tuesday's statement.
He added, "With an energy transition underway across the country, it is critical that Washington does not jeopardize America's energy security in the near term and leave consumers vulnerable to rising prices."
The senator proceeded to call on Biden to "responsibly increase energy production here at home and to reverse course to allow the Keystone XL pipeline to be built which would have provided our country with up to 900,000 barrels of oil per day from Canada, one of our closest allies."
Concluding his statement, Manchin said, "To be clear, this is about American energy independence and the fact that hard working Americans should not depend on foreign actors, like OPEC+, for our energy security and instead focus on the real challenges facing our country's future."
Advertisement - story continues below
The pipeline project was canceled in June after the Biden administration revoked its permit at the beginning of this year.
Earlier this week, Biden also addressed claims that his environmental policies have led to a spike in gas prices, as IJR reported.
Should Biden "reverse course" on the pipeline?
"I also want to briefly address one myth about inflated gas prices: they're not due to environmental measures. My effort to combat climate change is not raising the price of gas," Biden said during an event at the White House.
He continued, "What it's doing is increasing the availability of jobs. Jobs building electric cars like the one I drove at the GM factory in Detroit last week. For the hundreds of thousands of folks who bought one of those electric cars, they're going to save $800 to $1,000 in fuel costs this year."
Biden suggested the "big part of why Americans are facing high gas prices is because oil-producing countries and large companies have not ramped up the supply of oil quickly enough to meet the demand."
Truth and Accuracy
We are committed to truth and accuracy in all of our journalism. Read our editorial standards.
Comment Down Below
Conversation