Manchin Takes Aim at AOC: 'She's More Active on Twitter Than Anything Else'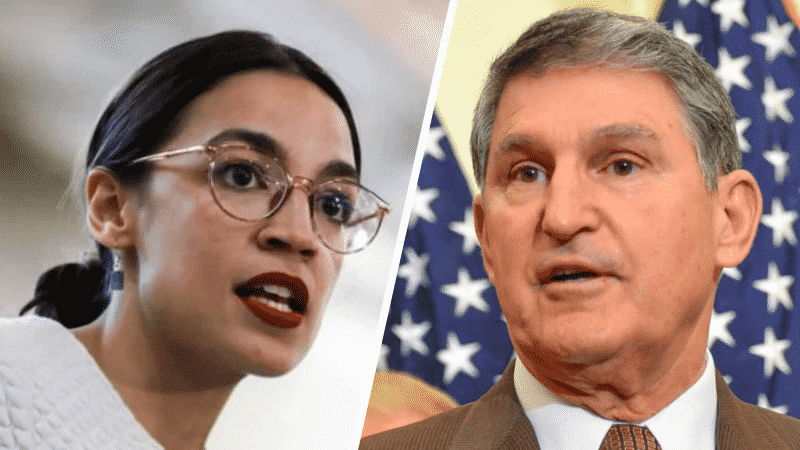 Sen. Joe Manchin (D-W.V.) is not staying silent in response to a photo Rep. Alexandria Ocasio-Cortez (D-N.Y.) posted on Twitter of her staring him down.
"Defund the police? Defund, my butt," Manchin, the most conservative Senate Democrat, said in a tweet on Nov. 11.
He added, "I'm a proud West Virginia Democrat. We are the party of working men and women. We want to protect Americans' jobs [and] healthcare. We do not have some crazy socialist agenda, and we do not believe in defunding the police."
In response, Ocasio-Cortez tweeted a photo of her fiercely staring him down — a photo from President Donald Trump's second State of the Union.
See the photo below:
https://t.co/4D4LVOyYhc pic.twitter.com/MwNIc41Szj

— Alexandria Ocasio-Cortez (@AOC) November 12, 2020
Speaking with The New York Times, Manchin said of the photo Ocasio-Cortez posted, "I guess she put the dagger stare on me."
"I don't know the young lady — I really don't. I never met her," Manchin continued, before adding, "I'm understanding she's not that active with her bills or in committee. She's more active on Twitter than anything else."
He then reiterated, "We're not going to defund the police, we're not for the new green deal. That's not going to happen. We're not for Medicare for All — we can't even pay for Medicare for some."
Ocasio-Cortez's spokesperson Lauren Hitt told the Times that the New York Democrat has submitted more than 90% more amendments than other freshmen.
Hitt added, "The congresswoman has earned a reputation as a tough, prepared member in committee hearings."