News
Marjorie Taylor Greene Warns Telecoms Against Cooperating With Jan. 6 Committee Request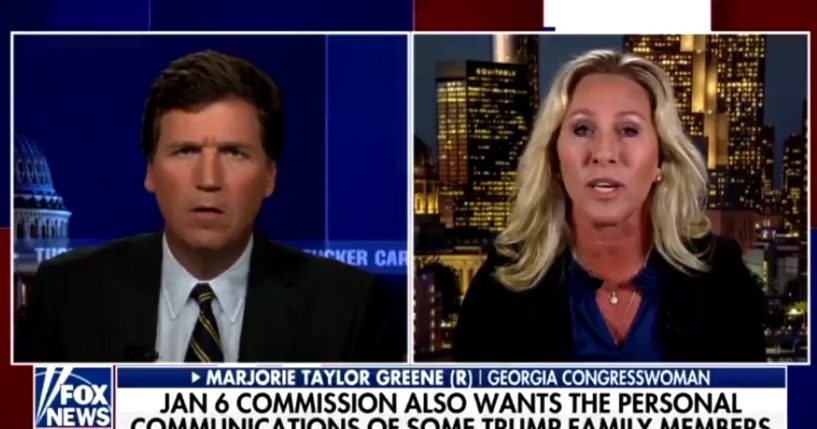 Rep. Marjorie Taylor Greene (R-Ga.) issued a warning to telecommunications companies if they cooperate with requests from the House select committee investigating the January 6 riot at the U.S. Capitol.
CNN reported Monday the committee is planning on asking telecommunications companies to keep phone records of a group of Republican lawmakers who had some involvement in the "Stop the Steal" rally.
Calling it "outrageous," Greene explained during an interview with Fox News on Tuesday, "After what America has been through, especially this past week… now they want to drag Americans and American taxpayers through another witch hunt."
Advertisement - story continues below
She added, "This is leading us into waters we've never been in America. You see, America was never meant to be a communist country. But these are the tactics that Democrats are wanting to use."
Carlson responded, "Well, yeah. I mean, demanding your text messages if they don't like your politics?"
Watch the video below:
Marjorie Taylor Greene @mtgreenee talks to Tucker Carlson about Pelosi's Jan. 6 Committee demanding that certain GOP lawmakers turn over their phone records.

Read more: https://t.co/tskF3KPgoR pic.twitter.com/Qu1WTdNmq1

— The Post Millennial (@TPostMillennial) September 1, 2021
Advertisement - story continues below
The Fox News host mentioned a statement released by House Minority Leader Kevin McCarthy (R-Calif.) also warning the companies against cooperating with the committee.
"If these companies comply with the Democrat order to turn over private information, they are in violation of federal law and subject to losing their ability to operate in the United States," McCarthy said.
He continued, "If companies still choose to violate federal law, a Republican majority will not forget and will stand with Americans to hold them fully accountable under the law."
My statement on Democrats asking companies to violate federal law: pic.twitter.com/XELEVNbx65

— Kevin McCarthy (@GOPLeader) August 31, 2021
Carlson shared his thoughts on McCarthy's statement, saying, "That statement is not weak. That statement is a flat out promise, threat, whatever you want to call it. If you do this, there are consequences."
Advertisement - story continues below
Greene issued a warning herself, telling the companies "if they go along with this, they will be shut down. And that's a promise."
Carlson told her he hopes "they're afraid of you. They should be."
It is unclear what method the committee will use to compel the companies to cooperate, as CNN reported. The committee does have the power to subpoena the companies but requesting the information could lead to a legal battle.
Truth and Accuracy
We are committed to truth and accuracy in all of our journalism. Read our editorial standards.
Conversation