News
Mary Trump Says Her Uncle Would Not 'Take One for His Kids' if They Faced Potential Legal Trouble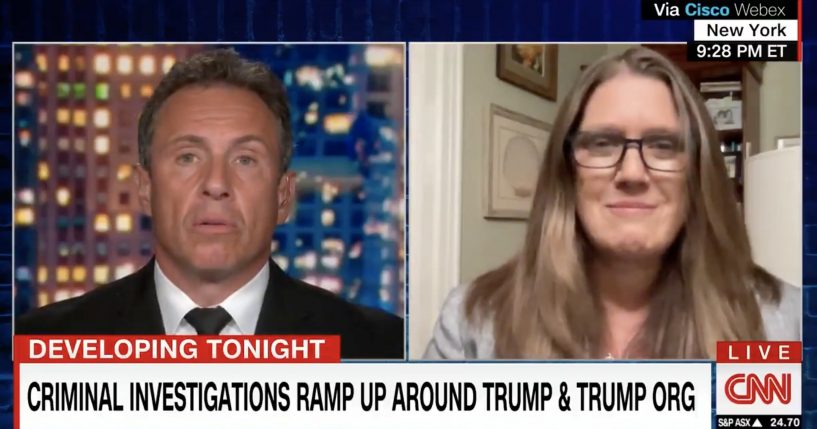 Mary Trump, former President Donald Trump's niece, is convinced her uncle "would never do anything to protect" his children if they were to face legal trouble.
CNN's Chris Cuomo asked Mary Trump on Monday night, "What would it mean to Donald Trump if they came after his kids?… Would that change his disposition, do you think? Would he take one for his kids?"
She replied, "No, he wouldn't. I think if that were to happen, if prosecutors were to go after his children, he would fully expect them to take a hit for him, to benefit him."
Advertisement - story continues below
Mary Trump continued, "What he probably doesn't understand is that's not really how it works. You know, they always try to get people to flip so they can go after the bigger target. But Donald would never imagine in a million years that his children would do that, although I'm fairly sure they would."
She suggested it is going to be "fascinating" if that happens "because he would never do anything to protect them if it were at his expense."
Watch her interview below:
"The only way [Trump] can continue to perpetuate the myths … is to continue to lie. There is no truth here and there is no endgame," says former Pres. Trump's niece, Mary Trump. "…It's about maintaining power and using that in the event that he gets indicted." pic.twitter.com/f0Y0qNXCFE

— Cuomo Prime Time (@CuomoPrimeTime) June 8, 2021
Advertisement - story continues below
When asked how she knows that, Mary Trump explained, "I've known him my whole life and unfortunately, I've had to analyze him pretty closely over the last four or five years."
She added, "This is somebody who's never changed. He doesn't evolve and as you said earlier, he has one thing he cares about, and that's himself. That will never, ever change, no matter who gets in his way, no matter who gets hurt, even if it's his kids."
The office of New York Attorney General Letitia James (D) announced in May the investigation into the Trump organization is "no longer purely civil in nature."
Trump slammed prosecutors in New York after it was announced that a grand jury has been convened by Manhattan District Attorney Cyrus Vance, as IJR previously reported.
"This is a continuation of the greatest Witch Hunt in American history. It began the day I came down the escalator in Trump Tower, and it's never stopped," Trump said in a statement in late May.
Advertisement - story continues below
He continued, "They wasted two years and $48 million in taxpayer dollars on Mueller and Russia Russia Russia, Impeachment Hoax #1, Impeachment Hoax #2, and it continues to this day, with illegally leaked confidential information."
Eric Trump and Donald Trump Jr. could face legal trouble as they are longtime executives of the organization. But Ivanka Trump might be the one who has to worry the most, according to Vanity Fair.
Truth and Accuracy
We are committed to truth and accuracy in all of our journalism. Read our editorial standards.
Conversation